I-League
Indian Football: Bhaichung Bhutia axed from All India Football Federation Technical Committee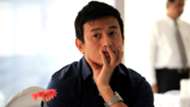 Bhaichung Bhutia has been replaced by Shyam Thapa as the Chairman of the Technical Committee of the All India Football Federation (AIFF).
Bhutia, and also his vice-Chairman Savio Messias, now finds himself out of the Technical Committee altogether. Henry Menezes is the new vice-chairman of the committee, which also includes GP Palguna, Abhishek Yadav, Pradip Dutta, Ishfaq Ahmed, Prosanto Banerjee and Sundar Raman.
However, among the new inductions across all the committees, there are several IMG members as well.
The foresaid list of IMG members in the AIFF sub-committee include Sundar Raman, Vandana Gupte (Legal Advisory Committee), Chirag Tanna, Rochak Langer (League Committee), Devang Bhimjyani (Competitions Committee), G Srinivasan (Futsal and Beach Soccer Committee), Yas Patel (Development Committee) and Swati Kothari (Women's Football Committee).