Indian Super League
Indian Football: AFC to convene an 'All Stakeholders' meeting in Kuala Lumpur on 7th June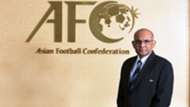 The All India Football Federation (AIFF) President, Praful Patel on Wednesday proposed a meeting of all stakeholders associated with Indian football be held under the aegis of the Asian Football Confederation (AFC) during a meeting with Dato Windsor John in New Delhi.

In India on an invite by the AIFF supremo, Dato Windsor has readily accepted the suggestion and has given the green-light for such a meeting to take place at the AFC headquarters in Malaysia on 7th June.

Wednesday's meeting held at the Football House in the national capital revolved around the roadmap for the future of Indian football, a topic which has come under much deliberation for the better part of the last year.

The growth and footprint expansion for football in India involving all stakeholders – the players, infrastructure, the national league and the commercial partners too were discussed; a part of which was a follow-up to the earlier meeting held on the sidelines of the FIFA Congress in Manama, Bahrain earlier this month.

Dato Windsor himself will chair the meeting to be attended by various AFC Directors.  Invitations will also be extended to senior representatives from FIFA's competition department and senior representatives from the Ministry of Youth Affairs and Sports, Government of India, the I-League and Indian Super League (ISL) Clubs and AIFF's Commercial Partner, IMG-Reliance.

Interestingly, the Indian player's body, Football Players's Association of India (FPAI) will also find a seat on the table in Kuala Lumpur after the Indian FA unceremoniously declined to recognise them as an affiliated unit earlier this year.

AIFF's General Secretary Kushal Das was also in attendance at Wednesday's meeting. Praful Patel thanked the AFC chief for reciprocating to his call and agreeing to convene such a meeting.

"I need to thank Dato Windsor John for taking the time to spend his day for Indian football and readily accepting our proposal to have an all stakeholders meeting and confirming a date at such short notice", he said in a statement released by the AIFF.