Ballon D'Or
'I won a World Cup, what else do I have to do?' - Griezmann disappointed by Ballon d'Or finish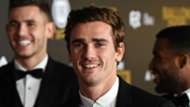 Antoine Griezmann was disappointed to have not won the Ballon d'Or after winning the Europa League and World Cup in 2018, while Kylian Mbappe says he will work to finish higher in the future.
Griezmann finished third in the balloting behind winner Luka Modric and runner-up Cristiano Ronaldo for the 2018 award.
It comes off a year that saw Griezmann win silverware twice, first with Atletico Madrid in the Europa League in May and then with France in the World Cup.
Griezmann played a crucial role in the club's success in the tournament, securing a result for 10-man Atleti at the Emirates in the first leg of their semi-final tie against Arsenal.
The forward would then seal his club's victory in the tournament with a brace in the final – a 3-0 victory over Marseille.
Griezmann then scored four goals and added two assists for France in the 2018 World Cup, including a goal in the final against Modric and Croatia, winning the bronze ball as he helped guide the nation to their second-ever triumph in the tournament.
And Griezmann lamented that he was unable to turn that success on the field into a complete success in the Ballon d'Or, as while he was proud to won so much this year, he was left wondering what else he could have done to snag the award.
"When I learned [I didn't win], you didn't want to be at home with me the first two days (laugh)," Griezmann said. "No, it's a great pride to be on the podium, to be a world champion.
"I'm counting on the team-mates in the club and the national team to be in Luka's place in the future.
"I won an Europa League, a World Cup – what else I have to do, I do not know" .
Griezmann's international team-mate Mbappe saw plenty of success on the night, taking home the inaugural Trophee Kopa for the best player under the age of 21.
However, while his success with Paris Saint-Germain and France, which included a domestic treble and a World Cup trophy, might have merited consideration for the top award, the 19-year-old star finished fourth.
Still, Mbappe is pleased to have come so far in such a short time and is aiming to make the award his one day, noting he does not believe he deserved it in 2018.
"A disappointment? Well, from where I come, no," Mbappe said. "In a short time I arrived at 7th and 4th place.
"The three players before me more more deserving than me. I have to work to be in this place in the future."