I-League
ISL 2018-19: Chennai City coach Akbar Nawas - The way we were treated was a disaster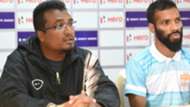 Chennai City FC defeated South Indian rivals Gokulam Kerala FC 3-2 in their third match of the I-League 2018-19 season in Kozhikode on Sunday. The win took Chennai to the top of the table.
After bagging all three points in a thrilling away match, Chennai's Singaporean coach Akbar Nawas expressed his frustration over Gokulam Kerala's mistreatment towards his side.
Before the game, both the teams had trained at the Calicut University Ground which is approximately 23 kilometres and an hour's journey away from the Corporation Stadium which is situated in the town centre of Kozhikode. 
Editors' Picks
Speaking about the situation, Nawas said, "We are frustrated with everything. It was a disaster. Football needs to be played on the field and not off the field. The way we were treated was a disaster."
On asked if the win was a perfect way to teach Gokulam a lesson, Nawas said, "It is a game of football. We want to play our game and stick to our plan. It is not about teaching them a lesson."
Analysing their performance, Gokulam Kerala coach Bino George said, "We will analyse the loss. We were weak in the first half. The players were tired."
On opposition coach Akbar Nawas' allegation against the home team, George said, "We were playing on a field last time in Chennai. The ground was uneven. East Bengal had even complained,. There are only three practice grounds in Kozhikode."
"They did not understand the situation. I don't know why they said. This is football, we will come back."