I-League
I-League 2017: Bengaluru FC's Albert Roca - 'Perhaps things change with a win over East Bengal'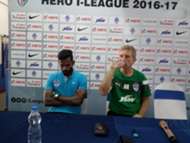 Bengaluru FC head coach Albert Roca cut an optimistic figure looking to reverse their six-game winless run in the 2016/17 I-League when they host East Bengal on Saturday.

"It is going to be a tough game tomorrow. We respect the East Bengal side who are coming. I believe in my team and the way we have played our last three games it has made us believe we are on our way to win," the Spaniard said.

"Perhaps things change tomorrow and we can win that game I think we deserved to win three games ago. We did a good job during the week and tomorrow is an important and a difficult test for us. We will look to get all the three points," he added referring to his assessment of the three drawn games, all of which Bengaluru should have won according to him.
Why Bengaluru must reverse poor form against East Bengal

East Bengal, on top of the table, might not be in lofty spirits given their own short run of three winless games but that would not make things easy for the Southern Eagles even if the likes of Willis Plaza, Arnab Mondal and Rahul Bheke have not made the trip.

"They have good players who have scored a lot of goals. You cannot expect it to be easier without him (Plaza). We have suffered a lot in defence and John (Johnson) is still not there. We still don't have that player that we can count upon, be it a foreign striker or any other foreigner and it is a shame but we cannot cry and complain," Roca said, choosing to focus on his own team's shortcomings instead.

Roca, a former assistant to Frank Rijkaard, came up with his observations when quizzed about what did his team not get right during the barren run of form.
Preview: Bengaluru FC vs East Bengal

"We haven't been getting the goals but we have been the team who have been creating most chances, the team who are making more offensive actions. It is just that we haven't been more efficient and we are still working on that. It is not easy. I just cannot pull up Vineeth and tell him to score more goals because he has already scored five. All of us as a team has to be concerned and try to do our best."

"It is true that we have failed in getting the final pass. We need to have a number 10 who manages all the action. We have to work more on getting the pass right for the last two or three metres and that is how we will get more chances to score finally."

"You need to have balance. Attack and defend well and have the efficiency in both boxes. We have conceded goals but not too much. We are perhaps a much better side on the training ground now and if we would have been a little bit more lucky or had more vision in the opponents box then we could have won games. We have to be more accurate and we have dominated all the games and control of the situations but without scoring it is impossible to win," the 54-year-old expressed with full conviction.
Editors' Picks
Lineker cried after Ranieri sacking

On the other hand, East Bengal head coach Trevor Morgan too was respectful of Bengaluru FC but expressed his desire to come out with all three points.

"It will be a tough game. We have to perform in this game. In the last two games, we played some disappointing football. We have just one defeat in ten games. It proves that we have done some good job. We need to concentrate on the pitch and not on outside talk. Yeah, it is my job and player's work to deliver the title," sounded the former Bournemouth player.

"We tried hard at Aizwal but didn't work it out. We won't think what Bengaluru are doing. We just want to move on to 24 points. We know, Bengaluru has the quality and ability to play good football. So we need to work hard to snatch the ball from them," concluded Morgan.