I-League
I-League 2017: Aizawl FC's Khalid Jamil - Won't be taking Bengaluru FC lightly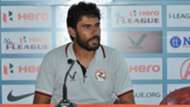 Aizawl FC head coach Khalid Jamil hosts his old foes Bengaluru FC, from his time at Mumbai FC on Wednesday in and I-League round nine encounter.

The men from the Mizo hills are surprisingly perched above the title-holders Bengaluru are going through one of the most torrid run of form in their short history but the Kuwait-born Jamil downplayed any suggestions that the Blues won't target a comeback and that too against them.

I-League 2017: Bengaluru FC's struggles on the road stoke fears of a 2008-09 East Bengal season repeat
 
"We have to play well because we are playing at home. We are playing well and to maintain it, we have to work hard. It is an important match for us in the league", Jamil said reflecting on the form of his own team.

"Bengaluru are a good team and quality players. We cannot take this tie lightly. We have to start well and go step by step. You have to be strong defensively, attacking you have to be good, Both we have to be good. We cannot just attack", added the former India international.

On countering the fast-paced nature of Bengaluru's attack which comprises of CK Vineeth, Udanta Singh and Sunil Chhetri, Jamil commented, "We have to play normally as we are but with more alertness. we cannot afford to give free-kicks near the box. they have good quality players. We have to be careful inside the box and have to be alert and not do anything silly."

The first-choice centre-back pairing of John Johnson and Juanan continue to be suspended for their misbehaviour against Churchill Brothers in an away match but the former Mahindra United man did not see that as a sign of weakness.

"They (Sandesh Jhingan and Salam Ranjan Singh - the centre-back pairing last match) played in the ISL recently so they have been tested. remaining players are good too. if we want to beat them we have to be quick and any chance we get, we have to capitalise."

I-League Team of the Week: Round 8 - One from each of the Kolkata Derby participants

The 40-year-old also commented on Lalruatthara's return from suspension and Stephane Kamo Bayi's importance to the squad. He also chose to praise Mahmoud Al Amna's performances and Alfred Jaryan's versatility.

"Lalruatthara had played a major role in our season far and he is available after serving out his suspension. Maybe, we will play him tomorrow. Lalramchullova is also doing well even after coming back from a long injury. Kamo Bayi is doing a good job from the first day till now."

"Not only Al Amna who has been superb, even Jaryan has to be strong in midfield. They have to dictate from the start because we are up against a tough opposition. They both play a major role."

When asked about the if other local Mizo talents would be included in the squad anytime soon, Jamil decided to play it safe - deviating from politics of choosing a lineup based on region based players.

"Everybody will get their chance, There is no difference between any players for me. Whoever plays the best, I make him play. There is no discrimination at all", he signed off.