African All Stars
I have improved a lot under Rafael Benitez, says Christian Atsu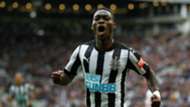 Christian Atsu has hailed the role played by Newcastle United manager Rafael Benitez in his development following his first English Premier League goal over the weekend.
The Ghana international who helped the Magpies secure promotion to the English elite division has spoken on the impact the tactician has had on his personal development as a player.
And the Toon Army winning three games in a row in the English first division since 2013/14, the former Chelsea man wants to keep working hard to keep his place in the side.
"I am very happy the team won and also happy to get my first Premier League goal," Atsu told club website
"Three wins in a row is very good for the team.
"Rafa is always telling me to use my speed to run in behind the defence if I want to assist or score more goals and it has shown a lot.
"I think with Rafa, I have improved a lot, I have seen it for myself and a lot of people are also seeing it.
"So he is very important to me and I also listen to him very attentively because he is a very good coach.
"I try to work hard every day in training, try to prove to him I want to be in the starting eleven because others are also waiting for the opportunity.
"The atmosphere in the dressing room is very good and we have to keep working hard."