Luka Modrić
How football reacted to Modric breaking Ronaldo & Messi's Ballon d'Or duopoly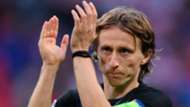 Football fans took to social media to react to Luka Modric winning the 2018 Ballon d'Or on Monday evening.
The Croat beat off competition from the likes of Cristiano Ronaldo, Antoine Griezmann and Lionel Messi to be named the winner of prize.
And as expected, fans took to Twitter to salute the Real Madrid star who won the Champions League and helped Croatia finish second at the World Cup in the season under review.
 
Happiness is...😀

Luka Modric 🏆  #BallondOr pic.twitter.com/yEsUCDPOtA

— LaLiga (@LaLigaEN) December 3, 2018
And the winner is !!! #BallonDor pic.twitter.com/N3SmHxp91N

— Real Madrid (@RealMadrid_FS) December 3, 2018
The journey of a Refugee kid to be the best footballer in the world.
Luka Modric 😎 #BallonDor #respect pic.twitter.com/e7O1TK9xTp

— Jon Snow (@Gujju_Jon) December 3, 2018
Best football player in the world. Grande Lukita! 🔝🎩🇭🇷 #BallonDOr pic.twitter.com/N2WXLNw3T2

— Lucas Vázquez (@Lucasvazquez91) December 3, 2018
Congrats to @lukamodric10 , winner 2018 #BallonDor ! 🏆 #HalaMadrid pic.twitter.com/m5cwlEBW5v

— Mutiu Adepoju (@MutiuAdepoju8) December 3, 2018
Congrats to Modric 🤝 well deserved #BallonDor

— KIZZ DANIEL (@iamkissdaniel) December 3, 2018
The last time the Ballon d'Or was won by anyone other than Messi or Ronaldo was in 2007, when Kaká claimed the prize. Look at Leo in this pic! #BallonDor pic.twitter.com/xZJgQQT5fW

— Ben Hayward (@bghayward) December 3, 2018
Luka Modric in the Year 2018:

Champions League
World Cup Golden Ball
World Cup Best XI
The Best FIFA Men's Player
FIFPRO World XI
Ballon d'Or

— Bolarinwa Olajide (@iambolar) December 3, 2018
Congratulations to Luka Modric for winning the #BallondOr .

Many people, including myself do not agree with the decision but none of us can ignore the year he's had.

UEFA Champions league winner.
UEFA player of the year.
World cup runner up.
Best player at the World cup. pic.twitter.com/fTCvzavLDu

— Alex (@CFCAlexG) December 3, 2018
Finally someone else wins the #BallonDor , congrats legend @lukamodric10 👌🏼⚽️🏆🥇

— Sarah Chamma (@sarahchamma) December 3, 2018
From rags to [mod]riches!
Congrats @lukamodric10 ! #BallonDOr

— Bharat Jajoo (@bharat_jajoo) December 3, 2018
Congratulations 🎊 modric. Its a well deserved win #BallonDor

— kolinz👣👣 (@its_kolinz) December 3, 2018
Congratulations to Luka Modric, The Best player of 2018 #BallonDor

— Ezra P Gonyuie (@EGonyuie) December 3, 2018
@lukamodric10 👏 what a player #BallonDor

— Luke Hallas (@luke_hallas) December 3, 2018
He deserves it #BallonDor pic.twitter.com/e1WVGIA2xL

— Tshepo Moleko (@MolekoThe) December 3, 2018
Luka Modric is lucky though. Congratulations to him #BallonDor

— Olawale Adigun (@Olawarrley) December 3, 2018
#BallondOr The 33-year-old Luka Modric led Croatia to the World Cup final against France and won the 2018 Champions League with Real Madrid.

— Anathi George Mgema (@anathiGM) December 3, 2018
Luka Modric is the first human being that won back Ballon D'Or after Kaka. Previously, It was seize by an alien. 🤣

— Lekiu Karl (@LuqmanJasper) December 3, 2018
Well done @lukamodric10 , deserved winner.. 👏 #BallonDor

— Matthew Bromley (@MatthewBromle18) December 3, 2018
Luka Modric is the first human being that won back Ballon D'Or after Kaka. Previously, It was seize by an alien. 🤣

— Lekiu Karl (@LuqmanJasper) December 3, 2018
Thoroughly deserved and one of my favourite players @lukamodric10 #BallonDor winner tonight.

— Kieran Joseph Morgan (@KJM_Solicitor) December 3, 2018