Opinion
How can the Super Eagles cage Robert Lewandowski?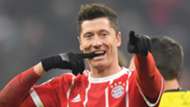 ---
COMMENT    By Solace Chukwu    

Follow on Twitter
---
While some of the qualifying results were certainly eye-catching, it is easy enough to agree that Nigeria's participation at the World Cup this summer was built on defensive organization: two goals conceded from open play in six games paints a picture of parsimony. 
That solidity will now be put to more stringent testing, starting on Friday when the Super Eagles face fellow World Cup hopefuls Poland. 
The Poles are ranked sixth in the world, and came through their qualifying group by besting Denmark and Romania, among others. Under manager Adam Nawalka, they have proven quite prolific: they found the back of the net 28 times over the course of qualifying, and boast, in Robert Lewandowski, one of the very best strikers in world football. 
The 29-year-old is the captain and centre piece of Poland; a frightening mix of physical prowess and unnervingly quick feet. You have only to look at the numbers to see this: of the total of 28, the Bayern man chipped in with 16 to effectively haul his team up the hill.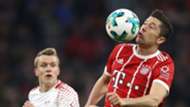 If it seems there is a dependency at work here, that's because there sort of is.
Lewandowski scored in nine of the 10 qualifying matches. The only game he failed to score in was Poland's only loss—a 4-0 hammering at the hands of the Danes. 
That, though, can be considered a little chicken and egg. Good teams necessarily lean on their most talented players, but sometimes certain players simply dominate teams by sheer force of personality. Bayern Munich, for all their riches, have failed to win in four of the eight games in which their talismanic striker failed to score. 
This is, of course, so eminently relevant as a test for a centre-back pairing, in William Troost-Ekong and Leon Balogun, that has largely looked assured.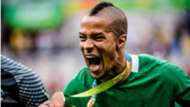 They have not faced a striker quite like Lewandowski, one so capable of being effectively in many different ways. 
Of course, one might baulk at the focus on him, but international football does lend itself to precisely this sort of approach.
With limited time spent together developing an understanding, especially outside of major tournaments, most national teams are a lot more reliant on the individual qualities of their stars, particularly in attack.
It makes the strategy simple, and perhaps explains why Lionel Messi continues to search for a World Cup winners' medal: stop the star man (read:Lewandowski), stop the entire team.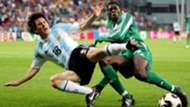 That, though, is easier said than done.
At 6' 1", he offers an obvious aerial threat (although both Troost-Ekong and Balogun have a height advantage), but then his movement on the shoulder of the defensive line is so crisp and sharp that the obvious ploy against big strikers – pushing up in a higher block – simply will not suffice. 
There is also the fact that he is one of the best penalty-box predators in world football, which adds a further layer of complexity.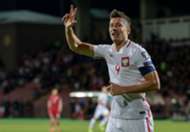 Few strikers in the world are as good at sorting their feet out in a crowded penalty area and working space for a strike. 
Considering the manner in which the Super Eagles defend, it would make for a fascinating watch: a deep block against one of the best at finding space in exactly that condition, whether with a sudden dart to the near post, or by peeling off his marker to the far post.
Also, seeing as much of his work depends on deliveries from out wide, there will be a huge responsibility on the full-backs to contribute to the effort by denying the wingers room in the final third. 
Despite handling the threat of Sergio Aguero back in November, keeping Lewandowski quiet on Friday will prove an even bigger ask.