Hougang United
Hougang's mental fragility needs immediate addressing after yet another defeat to Balestier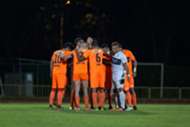 Hougang United  looked well on their way to earning their first home win of the season against Balestier Khalsa last night when Antoine Viterale's first-half strike, found the back of net.
Indeed the Cheetahs started out brightly and with Viterale, breaking a 23-game goal drought in all competitions with his goal, it set a very positive tone for Clement Teo's charges.
On the other hand, their opponents seemed in disarray and Tigers coach Marko Kraljević often cut a frustrated figure barking orders at his players; especially the midfielders to release the ball quicker.
With the boisterous Hougang Hools in full voice, all of a sudden the Hougang Stadium seemed like an impenetrable fortress. However this aura of invincibility would only be temporary.
Indeed the second half would prove to be a different narrative and it was now Balestier who were starting to assert their authority and in the end their efforts brought the rewards. Muhd Zakir would score the equaliser in the 74th minute before the impressive Hazzuwan Halim added another in the 76th minute.
Now here lies the problem for Hougang's youthful team, which is a mental barrier that prevents them from achieving their objective. To concede two goals in two minutes highlights a team that is prone to lapses of concentration.
It must be said that Hougang has made it an art form in the way they lose concentration. Coach Clement seriously needs to address his players' mental state because they simply lack the belief.
It was because of their mental fragility that Balestier were able to steal a win. Moreover even the fans were irked by such fragility with the HOOLS bellowing at the top of their lungs trying to inject a modicum of belief into them.
Coach Clement needs to understand that by just having senior players such as Fazrul Nawaz and Fabian Kwok in the squad won't do the trick. He must find a method to toughen up his players mentally because until then Hougang will remain at the bottom.