Simba
Hossam hails his young players after away draw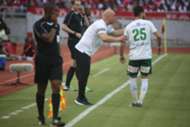 Al Masry head coach Hossam Hassan has hailed his young group of players following their first leg 2-2 away draw in CAF Confederation Cup tie with Simba SC in Dar es Salaam.
Speaking after the match, Hassan said that the results were good but not at a hundred percent because there is another match in Cairo in order to see off the tie.
"We have a good group of young players who want to fight for the team, we had a good match together with a good results although it is not for a hundred percent, we will have another match and we will be ready for that Insha Allah," said Hossam.
Editors' Picks
Hossam added that, the game was very tough especially in the dying minutes of the second half after heavy rains which caused the pitch to be filled with ponds of water that did not allow the ball to bounce and move well.
Simba SC took the lead in the first half through John Bocco who scored from the spot kick, however, the visitors came from behind before the half time were by Ahmed Gomaa and Ahmed Shoukry scored two quick goals to make it 2-1.
Emmanuel Okwi scored from the penalty in the last fifteen minutes to make it 2-2. The game paused in the 80th minute after lights went off followed by heavy rains.
The officials took the players out of the pitch in order to assess the situation before the game to continue after 30 minutes.