World Cup
History and finance help European nations, says Uruguay boss Tabarez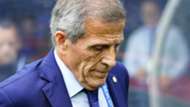 Uruguay head coach Oscar Tabarez rejected the notion South American football is in crisis and insisted it would be foolish not to acknowledge the financial advantages enjoyed by European nations.
Goals from Raphael Varane and Antoine Griezmann in Nizhny Novgorod gave France a 2-0 victory to move into the World Cup semi-finals, ending an impressive campaign from Uruguay in Russia on a relatively limp note.
Later on Friday, Belgium powered into a dominant first-half advantage over Brazil before holding out to best the favourites 2-1 in Kazan – a result that meant all six teams remaining in contention are from Europe.
France have been a particular tormentor of the CONMEBOL nations, with a 1-0 win over Peru ending the latter's participation at the group stage before prevailing in a 4-3 thriller over Argentina – a country for whom the future does not look particularly bright as the Lionel Messi generation winds down.
"It's not that we'll learn anything new. We've lost before," Tabarez told reporters, speaking before Brazil's loss to Belgium.
"You said European football is stronger, but we don't know who will win the World Cup this time. That said, it's ignoring football reality, from historical and financial points of view [to deny it].
"Bolivia might not be as strong as Germany and Uruguay not as strong as England. Don't ask me something that's so obvious."
By the time Qatar 2022 arrives it will have been 20 years since a non-European nation won the World Cup but Tabarez maintains the persistent achievements of sides such as his own should be applauded.
"Results have often been different. We can't take this match as a point of reference that contradicts everything we've been doing," he added.
"Uruguay is still among the most important teams in the world. If you say losing means we haven't achieved anything, then I can't understand you."