Premier League
Henry is wrong! Difference between Arsenal and Tottenham is not the players but the coach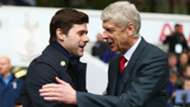 ---
COMMENT
---
"I think so. You cannot say that the weight of one year has the weight of 20. Let's be honest, I've answered that question about a shift in power over 18 consecutive years. Nothing changes in that."
Arsene Wenger's unequivocal response when asked if Tottenham need to do more before there is a 'power shift' in north London told us everything you needed to know about the rivalry between the two sides. The Frenchman will preside over his 50th derby game on Sunday when Arsenal face their bitter rivals in the final north London derby at White Hart Lane and while they have scored more goals against Spurs than they have against any other side under Wenger (92), they are without a win over Mauricio Pochettino's men in their previous five league games.
Wenger: Topping Spurs is important
Speaking alongside ex-Spurs skipper Ledley King and fellow pundit Graeme Souness for Sky Sports, it was Arsenal legend Thierry Henry who declared the unthinkable for most supporters in red and white. "It's difficult for me as an Arsenal man at the minute," Henry said. "But you have to be honest. At the minute also, I can only see right now Alexis Sanchez getting into that team without anyone saying 'how come he's in the team?' All the others, I think people will argue with that… but that doesn't mean Tottenham are going to win easily."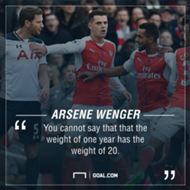 Henry's illustrious career saw him earn legendary status at Arsenal. He was deservedly honoured with a statue outside Emirates Stadium and he continues to have a close relationship with many at the club. However, many have pointed out that his punditry has lacked insight and substance at times - and the aforementioned quotes are certainly an example of a former player who is coming to a conclusion based on what he sees in the Premier League table instead of what has been shown over the past few seasons.
Tottenham's defence have provided the platform on which to build from this season and only a small selection of players would be getting a starting spot in a hypothetical combined XI on current form. The likes of Hector Bellerin, Alex Oxlade-Chamberlain, Mesut Ozil and Alexis Sanchez are all technically astute players and while Arsenal's season demise hit an all time low with the 5-1 defeat away to Bayern Munich, it should be noted that the majority of the Gunners squad have proven themselves in previous seasons - last years's second placed finish and three FA Cup trophies in four years are a clear example of the talent which is there.
'Real possibility that Alexis will leave'
Wenger has endured a season filled with criticisms from fans, ex-players and pundits. Some of it has been justified due to the embarrassing results against the likes of Bayern Munich and West Brom, while the original motivation behind many fans wanting the long-serving manager to leave at the end of the season has now culminated in a 'Wenger Out' meme being displayed at festivals, protests and celebrations across the world. Even if you have no interest in the situation at Arsenal right now, you'll know exactly who the 67-year-old is.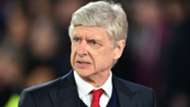 The contrast in fortunes for Arsenal and Tottenham is particularly noteworthy. Pochettino's side have played free flowing football throughout the campaign, mounting a credible title challenge which has seen them close in on league leaders Chelsea to just four points. Wenger's Arsenal, meanwhile, have been knocked out of the Champions League last-16 for the seventh consecutive season, seen their attempted title challenge dissipate before February - but they could potentially secure their fourth FA Cup trophy in five years if they beat Chelsea at Wembley next month.
Indeed, Wenger has been slow to change tactically and that is where his major flaws lie. The formation switch to 3-4-1-2 could be the decision which reinvigorates Arsenal's end to the season and secures them a top four spot and FA Cup trophy, but in the eyes of many supporters it wouldn't be good enough or an upgrade on previous years. Henry played in an Invincibles side and never lost a game against Spurs, but the team he played in were unique, special and at times on a different planet to everyone else.
Poch dismisses 'silly' motivation
While many want his 21-year tenure at Arsenal is coming to an end this summer, there should be no question over who the bigger club in north London is. Wenger has won more English top flight league titles than Tottenham and Arsenal have won the championship at White Hart Lane more times than Spurs themselves. If a power shift is occurring down Seven Sisters Road right now then someone must have forgotten to pay the electric bill.
The new 61,000 seater stadium, finishing above Arsenal for the first time in 22 years and playing the best football in the country right now, things do look good at Tottenham as it stands. Those with short memories may be convinced that there has been a huge shift in power but it will take more than one season to affirm a statement like that.