Premier League
Hearts of Oak CEO Noonan wants Ghana Premier League to be run independently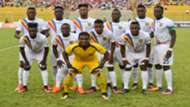 Hearts of Oak chief executive officer Mark Noonan has called for the Ghana Premier League to be weaned off the local football association. 
The direct attachment of the topflight to the football governing body has long been a concern, with many attributing the woes of the league to the situation. 
And following the recent FA corruption scandal that has put all competitive local football matches and competitions at a standstill, the Hearts chief reckons the time is right for a new order. 
"We need somebody that is incredibly independent, a great business operator, a good politician and consensus builder to lead the league," Noonan told Saddick Adams, a Ghanaian journalist.
"I do believe the league and the FA should be separated but connected in other words.
"The FA will have an important role to play - working for Caf and Fifa and organising teams, FA cups, grassroots football and player registration.
"There is always a good model to adopt - like the US model, the German model and English Premier League. We need to take these into consideration.
"From what I can tell, self-interest and [lack of] transparency have been the order of the day and, perhaps, there were people in positions without the confidence to operate."
The topflight is currently run by the Premier League Board of the GFA. 
With the current football impasse, it is unclear when it will resume.