Asante Kotoko
Hearts boss Nuttall previews Sunday's FA Cup showdown with Kotoko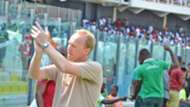 Hearts of Oak coach Frank Nuttall has reiterated their readiness for Sunday's FA Cup final clash with archrivals Asante Kotoko, but insists he is under no pressure to lift the royal diadem.
The Phobians return to the cup climax for the first time in 17 years after beating Okwawu United 2-0 to win the 2000 edition.
And having missed out on the league title after finishing third in this season's topflight, there seemingly is increasing pressure on the Scotsman to steer his team to claim the last available silverware of the campaign.
"I'm under no pressure, I said that the first time I took the job," Nuttall, who was appointed Hearts boss in February, said in a press conference.
"Taking the job is a challenge, so I'm not under the pressure to win the trophy on Sunday.
"We are taking Sunday's game very serious regardless who are playing, we are mentally ready to play.
"I'm focused on my team, we deal with who we have to deal with, we have to show a strong attitude on Sunday."
Sunday will be Hearts' 16th appearance in the FA Cup final.
The most successful team in the history of the competition, the Phobians have lifted the trophy on 10 occasions.