Rio Ferdinand
Guinness Football Experience: Rio Ferdinand to visit Nigeria on November 30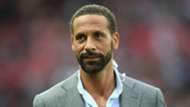 Manchester United legend Rio Ferdinand will be visiting Nigeria from November 30 to 1st December to join Guinness Nigeria's efforts to find and celebrate Nigerian football fans that are Made of More. 

Ferdinand is no stranger to Nigeria and in 2008 he met the traditional ruler of Lagos, King Rilwan Akiolu, during a visit and was bestowed with the title of "Chief Fiwagboye". 
During the ceremony at his palace in Lagos, King Akiolu told the former England defender that Fiwagboye literally means "character maketh wealth." 

"To be honest, I was a little embarrassed to be named a Chief, I'm not sure I'm worthy but it is something to be proud of really," Ferdinand said at the time. 

The six-time Premier League winner was impressed with the power of football in Nigeria during that visit.
"The power of football here is unbelievable, everyone I see here are either Manchester United, Arsenal or Chelsea supporters. Everyone's got football shirts on,"  he told the media.

In anticipation of Ferdinand's visit, Guinness Nigeria will be running a promo to select winners to join Rio at a live international match in Cameroon. The promotion will be launched on 9th November 2018 where fans can send an SMS of the code under the crown of their Guinness Promotional Bottle to 1759.

To find out more about the promotion, like the Guinness Facebook page, www/facebook.com/Guinness and follow our handle on IG @guinnessngr