Manchester City
Guardiola offers update on De Bruyne, Jesus and Fernandinho contract talks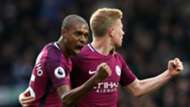 Pep Guardiola admits Manchester City are "so close" to agreeing fresh terms with Fernandinho, while talks with Kevin De Bruyne and Gabriel Jesus remain ongoing.
The Premier League leaders are busy trying to lock down the respective futures of those they consider to be crucial to their plans heading forward.
Positive discussions have been held with priority cases, with extensions in the process of being pieced together.
Editors' Picks
Brazilian midfielder Fernandinho, who has been rejuvenated under Guardiola's guidance, is the closest to putting pen to paper, with fellow countryman Jesus and Belgian playmaker De Bruyne also being coaxed towards an agreement.
Guardiola told reporters when asked for an update on contract proposals: "My last news is 'Dinho is close, so close. Gabriel and Kevin, I don't know.
"I think they made the first contacts but I don't know if it is close.
"Fernandinho, a lot of time ago we were handling that so I think it's at the end."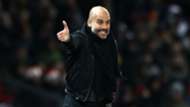 With City having enjoyed an unbeaten start to their domestic endeavours this season, while also making positive progress in Europe, Guardiola hopes that a youthful core of top talent will buy into a long-term project at the Etihad Stadium.
He added: "All the young players that we have, the managers [agents] the fathers and mothers all know we would like them to stay with us for a long time.
"No doubt we would like to extend Gabriel and Kevin's contracts. The negotiations are the negotiations and sometimes it is not possible but they know, all of them, that we would like them to continue.
"We want to build up something we started 18 months ago with these guys and want to continue with them."
Guardiola has also addressed the issue of his own future, with the former Barcelona and Bayern Munich boss saying that an extended stay in Manchester will depend on whether he offers enough – through the collection of silverware – to "deserve" a new deal.
He said: "I will be here one more year and after that we will see. It depends on whether we win and I deserve to extend my contract."