Barcelona
Gomes gatecrashes another Messi party to show he may have Barca future after all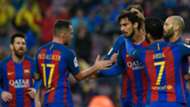 ---
COMMENT
---
The Portuguese are not particularly popular at Camp Nou. Luis Figo was hated by Barcelona fans for defecting to Real Madrid, Jose Mourinho became a villain in his time at Los Blancos and Cristiano Ronaldo is roundly booed every time he visits for a Clasico.
Brutal Barca hit Osasuna for seven
Another Portuguese, Andre Gomes, has been given a rough ride since signing for the Catalan club from Valencia in the summer. The Euro 2016 winner arrived in an expensive deal that cost €35 million plus add-ons, but has been a scapegoat virtually all season long.
Editors' Picks
The 23-year-old has shown glimpses that of talent here and there, but there is no escaping that Barca's worst performances this term have come when he has been in the team - including the 4-0 loss at Paris Saint-Germain, the 3-1 defeat away to Manchester City and the 4-3 reverse against Celta Vigo.
Through thick and thin, however, he has been defended by his coach Luis Enrique, the Barca boss calling a journalist "pathetic" and "shameful" for a pointed question about the form of the midfielder earlier this month.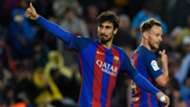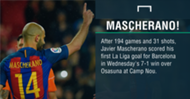 The Asturian coach also said recently: "Andre Gomes gives us a lot of things on the field of play. He is going to be a very important player in the future of this club."
Luis Enrique hails 'decisive' Messi
Time will tell. Luis Enrique is leaving Barca this summer and it will be the job of his successor to assess the squad at Camp Nou. Given his age, though, Gomes is likely to have time to adapt and become an important player for the Catalan club.
He is already starting to show that he can be. The Portuguese played a part in Lionel Messi's winner in the Clasico clash at Real Madrid on Sunday and was rewarded with a place in the starting line-up for the game against Osasuna on Wednesday.
This one was all about Messi again at the start, with a banner unfurled by supporters to thank the Argentine for his 500 goals for the first team, and the five-time Ballon d'Or winner wasted no time in adding his 501st with a breakaway effort finished with a lovely lob.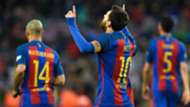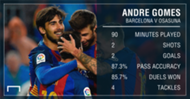 Osasuna, bottom of La Liga and heading to Segunda after a sole season back in the top flight, then found themselves another goal down as Gomes netted with a neat half-volley and, after a fantastic free-kick from Roberto Torres had reduced the deficit, the Benfica academy product struck again to make it 3-1.
Ramos red crystal clear - Pique
The former Valencia man has had to put up with reports that Messi and others want him sold in the summer, but there were smiles and embraces for Gomes following his two goals. Furthermore, after starting the match with a dreadful pass into touch, he looked like a different man by the end of his best 90 minutes to date in a Barca shirt.
Paco Alcacer added a couple himself, while Javier Mascherano was allowed to take a penalty that resulted in his first-ever goal for the Blaugrana on an evening when everything went right for the home side. Indeed, Messi was even taken off for a rest after grabbing a stunning second.
So, good news all round for Barca, but especially for Andre Gomes. There is a good player in there trying desperately hard to get out and, on the evidence of the past few days, this is one Portuguese that might just win over the Camp Nou crowd.