CAF Champions League
Goalkeeper El-Hadary in disciplinary spat with Ismaily, doubtful for Caf match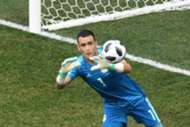 Essam El-Hadary availability for Friday's Caf Champions League first round, first leg match against Cameroonian giants Cotonsport at home is in doubt following a disciplinary spat with his club Ismaily.
The Egypt international clashed with Ismaily bosses after he went AWOL ahead of the preliminary round, first leg trip to Burundi to face Le Messager Ngozi.
After being summoned to assist with investigations over his absence from the visit to Burundi, El-Hadary again did not turn up, leading to the club sanctioning him.
Editors' Picks
Ismaily counsellor Nehad Hagag said the legendary goalkeeper has now been placed on the January transfer list and lost captaincy of the club which he shared with Hosny Abd Rabo and Mahmoud Metwally.
"We have decided to fine Essam El-Hadary EGP 500 000 (USD27 000) for missing the Burundi trip. He escaped from the battle and he will be fined according to the rules," Kingfut quoted Hagag as having said.
"He has been stripped of the captaincy and we have officially informed the Efa (Egyptian Football Association) about his absence. Ismaily have also placed Essam El-Hadary on the January transfer list."
Hadary had been quoted Egyptian publication by Al Ahram last week saying he missed the trip to Burundi while attending to his sick mother.
Ismaily are back in the Caf Champions League after eight seasons without participating in the tournament and are ready to lose Hadary in January.