Serie A
Ghana's Asamoah proposed for Inter captaincy amid Koulibaly racism storm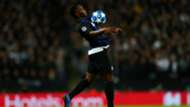 Milan mayor Beppe Sala is disgusted by the racist abuse of Napoli defender Kalidou Koulibaly at the hands of some Internazionale fans during a league fixture on Wednesday and has called on the Nerazzurri to make Ghana full-back Kwadwo Asamoah captain for their next game against Empoli on Saturday in condemnation of the unfortunate incident.
Senegal centre-back Koulibaly was the target of racist chants during the Serie tie, which ended 1-0 in favour of Inter. 
Interestingly, he ended the match with a red card for a second bookable offence for sarcastically applauding the referee after being earlier booked for a foul on Matteo Politano.
Editors' Picks
"It was a disgraceful act towards a serious athlete like him, who proudly bears the colour of his skin, and - to a lesser extent - so many others who go to the stadium to support their team and be with their friends," a portion of Sala's post on Facebook read.
"I don't like thinking about what others should do to address the problems of the society we live in.
"I always prefer to start from what I have to do, so in this case, I'll do something very simple.
"I'll keep going to watch Inter, but I'll make a small gesture if I hear another boo. I'll get up and leave.
"I'll do it for myself. I'm aware of the fact that those who howl towards a black player won't give a damn about me, but I'll still do it.
"Inter will do what they think is right. I'd like to see the captain's armband given to Asamoah at Empoli.
"In the meantime, I apologise to Kalidou Koulibaly, in the names of Milan and I."
Many others, however, have called on Asamoah to turn down the captaincy should Sala's proposal be accepted in solidarity with Koulibaly and in request for stricter measures and punishments.
The Ghanaian joined the Nerazzurri in the summer from Juventus. 
Meanwhile, Luciano Spalletti's outfit are to play their next two home games behind closed doors, while Koulibaly has been given a two-match ban for his dismissal.