Premier League
Ghanaian referees don't want to be judged by Lathbridge incident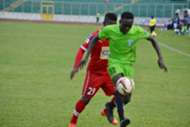 Reginal Lathbridge's recent life ban by the Ghana Football Association does not suggest a fallen standard of officiating on the local scene, colleague referee David Laryea opines.
Lathbridge was, on Tuesday, handed an indefinite suspension from taking part in all football related activities at national and international levels for an error committed during last season's Ghana Premier League matchday seven clash between Bechem United and Elmina Sharks.
According to the Discipninary Committee, the 42-year-old failed to "submit a complete and accurate match report, thereby bringing the game into disrepute", and violating Articles 22 and 35(7)(d) in the GFA General Regulations.
"It [ban] is based on the GFA's regulations," Laryea told TV3.
"With the offence and article they [Disciplinary Committee] quoted, I won't be able to say whether the decision is fair or not.
"If he thinks [by] the article, the decision is not fair, he can appeal.
"Performance wise, we [Ghanaian referees] are doing well.
'With these Caf club competitions, two of our teams went for the [recent] prelims, one in Burkina Faso and one in Ivory Coast.
"Ghanaian referees are doing better on the continent, so this [incident] shouldn't be related to our performance."
Lathbridge's mistake led to the recent legal battle between the FA and Great Olympics, effectively holding up the league from starting for weeks – due to a court order – until last weekend.