Ghana
Ghanaian President Akufo-Addo dissolves country's FA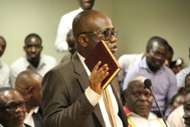 The President of Ghana, Nana Akufo-Addo, has dissolved the country's football association in response to the revelation illuminating the corrupt practices of Kwesi Nyantakyi's led board.
Anas Aremeyaw Anas – an undercover journalist, premiered a documentary which exposed the rot amongst GFA top officials on Wednesday.
And in a bid to ensure 'necessary reforms' to sanitise football administration in the country, the country's number one citizen announced the dismissal of Ghanaina FA boss  Kwesi Nyantakyi and his entire staff.
According to a statement signed by the country's Information Minister, Mustapha Amid, the government expressed indignation at the contents of Anas' video.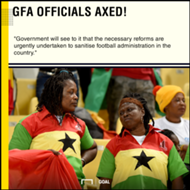 "Government is shocked and outraged at the contents of the recently-aired video documentary, which captures the investigation conducted into football administration by the journalist, Anasa Aremeyaw, titled "Number 12': When Misconducted and Greed become the Norm," the statement read.
"The documentary exposes the gross malfunctioning of the Ghana Football Association (GFA), characterized by the widespread fraud, corruption and bribery. As a result of the pervasive nature of the rot within GFA, government has decided as follows:
"The conduct of all officials of the GFA, together with that of the suspended Acting Director General of the National Sports Authority (NSA), Robert Sarfo Mensah, shown in the documentary to be involved in questionable, potentially criminal acts, is forthwith, referred to the Police for further investigation and appropriate action. The Police are to take all such relevant measures as are necessary to ensure that the contents of the documentary are rapidly and thoroughly investigated.
"Having regard to the widespread nature of the apparent rot involving top GFA officials, top NSA officials, match commissioners, football administrators and referees, government has decided to take immediate steps to have the GFA dissolved. Government will shortly, thereafter, announce provisional measures to govern football activities in the country, until a new body is duly formed; and
"Government will communicate these decisions to the Confederation of African Football and the Federation of International Football Association, and engage with them on these developments to chart a way forward for Ghana football."