MLS
Return to form - Can a younger, faster Sporting Kansas City side rediscover the magic?
---

2017 MLS SEASON PREVIEW
---
Three times in three years Sporting Kansas City has faced a knockout round playoff match on the road. And each time a disappointing, if not devastating, loss has followed.
In 2014, two goals from Bradley Wright-Phillips in the final 15 minutes saw the New York Red Bulls eliminate Sporting KC on their way to the Eastern Conference final. The 2015 season saw the eventual champions, the Portland Timbers, knock out Kansas City in a shootout. Last year, Sporting's season was ended by a Nelson Valdez goal in the dying minutes against the Seattle Sounders, who also went on to win MLS Cup.
MORE: All you need to know about Sporting KC
Editors' Picks
All three losses were, in their own ways, crushing for a club that won MLS Cup in 2013 and retains a solid core from that title-winning team. But they all lead to the same reality.  
Playoff seeding matters.
"I think if you go back and look at the three games we lost the last three years, you can probably say that we outplayed the team that we were playing in probably all three," midfielder Benny Feilhaber told Goal. "Obviously some games were tougher than others, but I think we were in every single game, we had the opportunities to win every single game, and that's not an easy feat in MLS away from home. So I think the fact that we played well and still didn't win goes a long way to show you how important that home-field advantage is, especially in the one-and-done games in the playoffs."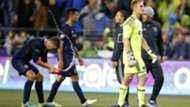 Sporting's 2013 MLS Cup-winning side finished second in the Eastern Conference and ran through the playoffs on the back of strong showings at home. A 3-1 result at home against New England in the second leg of the conference semifinals was enough for a 4-3 win in the tie. In the conference final, a 2-1 second-leg home win followed a 0-0 draw in the first leg in Houston. The 2013 MLS Cup final was also played in Kansas City, and the home side won it 7-6 on penalties after fighting Real Salt Lake to a 1-1 draw.
Since then, Kansas City has hosted a grand total of zero playoff matches. 
"For us, I think it's vital to finish in the top four," Feilhaber said. "Obviously finishing in the top two would ensure us right to the semifinals, which would be awesome, but three and four at least give you that big opportunity to win that first home game and make a run at it. But playing that first away game in the playoffs is very difficult to get that win and obviously continue with some momentum."
D.C. United lays groundwork for new era
This offseason Sporting went about building a squad to do just that.
At a glance, the 2016 team had some obvious flaws, starting with an attack that simply lacked options. Kansas City had just three players — Dom Dwyer, Jacob Peterson and Feilhaber — score more than two goals on the season. The club also struggled greatly on the road, picking up just 14 of its 47 total points away from home.
To correct those issues, head coach and technical director Peter Vermes and his staff have made some bold moves with an influx of youth, speed and promising attacking players. 
"It's definitely younger. It's got more pace to it," Vermes said of his 2017 team at a news conference in January. "I think it's going to be a hungry group. But we've got a lot of youth on the team because we feel that we needed to make a little bit of a turn within the group."
That turn included the signing of winger Gerso Fernandes as a designated player, bringing back Soony Saad after a stint in the Thai league and bringing in group of relatively unknown younger players, like Ghanaian Latif Blessing and USL star Cameron Iwasa, to give the side more options across the front line. Those new faces will be tasked with adding some much-needed punch to the attack and with opening up space for Feilhaber and Dwyer to work in the middle of the park. 
"If that goes according to the coach's plan and what the team's plan is then we'll get some more production in terms of goals and assists from those positions," Feilhaber said. "(It) also takes some of the load off of Dom (Dwyer) and maybe the two center backs won't hone in on him too much throughout the game. I think all in all if we can get some production from those winger spots, I think it's going to be huge for our entire attack."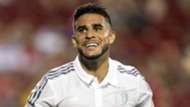 More goals is always a good answer when a team has questions, but for Sporting, getting back to being a dominant force in the league will require more than finding the net. Under Vermes the club has developed a style of play that has brought it an MLS title and two U.S. Open Cup trophies. That style requires not just being dangerous in the attack, but the ability to control play by possessing the ball.
Feilhaber seems confident that Fernandez and other new signings, like midfielder Ilie Sanchez, a former Barcelona B player, will help this new-look Sporting side control more matches and earn a better return away from home.
Real Salt Lake aims for seamless transition
"I think that we're going to be a little bit better in possession," the midfielder said. "And I think one of the things you need to be good on the road is you need to be very good at counterattacking — which we haven't been in the past — or you have to be a good possession team that isn't always sitting back and taking pressure.
"I think that's something that we used to be very good at, and we still are at home, but on the road we haven't been as good. I think you'll see that with some of the pieces we brought in — Ilie Sanchez as well, playing defensive midfield, is a guy that's going to be very good bringing the ball from the defense to the attack — we'll be back to playing a little bit more possession-oriented soccer, especially away from home, which should help us be able to manage games and control games."
Make no mistake, this is not a rebuilding process for a Sporting side that has gone toe-to-toe in the playoffs with the last two MLS champions. It's more a matter of taking the next step. 
The style won't be drastically changed even if some of the faces executing the game plan are. 
As Vermes coolly put it: "We're going to be who we are."