Barcelona
Pique's 'lack of respect' incites violence, claims ex-Liga referee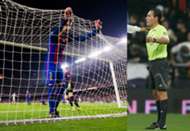 ---
EXCLUSIVE
---
Former Liga referee Alfonso Perez Burrull has launched a stinging attack on Gerard Pique, accusing the Barcelona defender of inciting violence towards match officials.
Pique found himself in the spotlight following the Catalans' 2-1 defeat at the hands of Athletic in the Copa del Rey recently, suggesting there is a bias amongst referees against his team.
Luis Enrique's side overturned the deficit in the second leg, but the centre-back sparked controversy by claiming he and his team-mates "know how this works" when comparing decisions received by Real Madrid to those that had supposedly gone against Barca.
Speaking exclusively to Goal, Perez Burrull accused Pique of a "lack of respect" for referees and maintained that his insinuations had no basis in reality.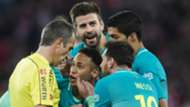 "Making the link between a passage of play and one's offices is like going back to the past and a terrible lack of respect," the former official said.
"It should not be allowed. I saw the pictures and when you are a sportsman you know there are mistakes and correct calls, good days and bad.
"That lack of respect should not be allowed because it causes violence."
Perez Burrull continued by explaining that for a match official, nothing hurts more than the suggestion of foul play.
"If you do a bad job and you are criticised, that is one thing, but if you do a bad job and the player has to tell you that you were wrong... well," he said.
"Now, when we start to look for an intention behind all this we are now talking about a lack of respect and accusing people of not being honourable, and that is not good.
"I do not think anybody likes to be told 'hey, you are dishonourable'. You can tell me I am bad or whatever, but I am honourable because I am the referee. If we take away the referee's honour it is all downhill from there."