Naby Keïta
Future to be discussed after season ends, says Liverpool and Bayern target Keita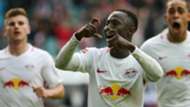 Naby Keita has suggested a move away from RB Leipzig at the end of the season is a possibility and says he will discuss the matter with his agent.
Man Utd need Belotti more than Griezmann
With eight Bundesliga goals in 28 games, the midfielder has been key to the promoted side's rise to second in the table, having already secured their place in next season's Champions League.
The 22-year-old has attracted interest from Bayern Munich and Liverpool, while Arsenal are also said to have scouted him. 
Keita joined Leipzig from Austrian side Red Bull Salzburg ahead of the current campaign and is contracted until June 2020, but staying put is no guarantee.
"I'm very comfortable at Leipzig," he told Bild. "There are still three games to go, that's what I'm concentrating on. My agent takes care of everything else.
"When it's time, I'll discuss it with him and my family."
The Guinea international was asked for his reaction to comparisons to Barcelona star Andres Iniesta, replying: "I like his style, I often hear that I play like him."
One comparison he did not quite understand, however, was sporting director Ralf Rangnick saying he is like a koala bear that you always want to hug.
"It's true," Keita laughed. "He often puts an arm around me. I don't know exactly what a koala bear looks like though. Actually, I often fear animals because in Guinea many are dangerous."