Premier League
Pass me the lighter, Buffon! Why Szczesny's Arsenal career went up in smoke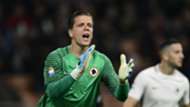 ---
COMMENT
---
Those who know Arsene Wenger's character will be fully aware that showing loyalty towards his players is a key facet of his managerial and philosophical outlook. He gives second chances and no-one knows that more than Wojciech Szczesny, the 27-year-old Polish international who is set to sign for Juventus in the coming days.
Wenger's instinct has always been to protect his own and that fierce loyalty was displayed just days after the infamous Szczesny smoking episode at St Mary's stadium. The Gunners had just lost a Premier League game to Southampton and the goalkeeper took out his frustrations by lighting up in the away team changing room.
What are the odds on Arsenal beating Bayern in pre-season?
Editors' Picks
"Human beings are human beings with their strengths and weaknesses, that has not changed. We know it's not good [to smoke]," said Wenger.
"My issue is that the players here are judged on their performances. Ideally the best way to have a high level of performance is to behave as well as possible, as close as possible to the rules that allow you to be performing."
Szczesny was fined £20,000 for that bizarre episode on the south coast and never recovered from the immature decision. Behind closed doors, he apologised in person to Wenger but his reaction at Arsenal's FA Cup victory parade outside Islington Town Hall four months later where he jokingly asked if "anyone has got a lighter" showed that he didn't take the matter as seriously as his boss.
While team-mate Jack Wilshere has previously been lambasted for smoking while on holiday and clubbing out in London, the case of Szczesny is unique. It was an unprofessional moment of madness which even Wenger struggled to defend and is one of the main reasons why he has found it so difficult to come back into the Arsenal fold.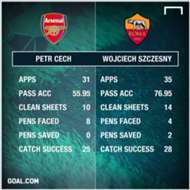 Petr Cech v Wojciech Szczesny - 2016-17 comparison
A two-year loan spell at Roma has seen Szczesny make 80 appearances for the Giallorossi, playing every minute of the last league campaign and keeping more clean sheets than any goalkeeper in Serie A. He had the second best percentage of saves in the Italian flight and it was no surprise to see his performances between the sticks alert the attention of Juve boss Massimiliano Allegri, who believes he will become the club's no.1 goalkeeper once the legendary Gianluigi Buffon retires at the end of the season.
Unloved Lingard impresses Man Utd
Ironically, Buffon hit the headlines himself this year when he was photographed enjoying a cigarette after Juventus had beaten Monaco to reach the Champions League final. The two should certainly have a lot in common and in Buffon the Pole will have the perfect teacher to improve his game further ahead of succeeding the Italian in 2018.
Szczesny has come a long way from the fresh-faced 18-year-old who made his name on loan at Brentford in League One almost eight years ago. In 2013-14, he shared the Golden Glove award with Petr Cech as the Premier League goalkeeper with the joint-most clean sheets but it was the following campaign where everything started to go wrong for him at Arsenal.
The talent has always been there, even if a smattering of calamitous errors - including the forgettable mix-up with Laurent Koscielny in the League Cup final against Birmingham which cost Arsenal the trophy - will live long in many supporters' memories. In total, he made 181 appearances for Arsenal - winning two FA Cups and an FA Community Shield.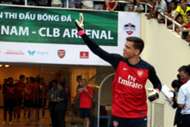 "I'm happy that I always gave him the confidence because he's developing very well into a very strong goalkeeper and today certainly nobody would question that he's one of the top five goalkeepers in the Premier League," said Wenger in 2014.
"Certainly a part of his improvement is mental because he's more mature."
Just a year later, 6ft 5in Szczesny took a step back in his development by making the worst decision of his Arsenal career. For now, it will be the Gunners' loss and Juve's gain as they sign a top class goalkeeper for a fee in the region of £10m.
For Szczesny and many Arsenal fans, the feeling of 'what could have been' lingers on like a flame in the fire. That reminds me, has anyone got a lighter?