Arsenal
Freddie Flintoff will never change sides! Watch the best fan reactions as Bayern hammer Arsenal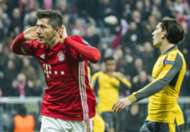 This season official UEFA Champions League partner Sony Xperia is offering supporters a unique way to see and share the tension, the joy, the relief and disbelief as followers of the UCL react to the action in their very own living rooms.
And a lucky group of Arsenal fans were joined by a special guest on Wednesday night as the Gunners travelled to Munich to take on Bayern.
The former England captain's debut on the Champions Sofa buoyed the lads as Arsenal set off to avoid a seventh consecutive last 16 defeat in the UEFA Champions League, but things didn't start well as Bayern took an early lead.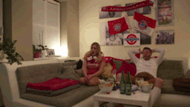 Arsenal appeared to be heading down a familiar road, but then came a lifeline as Laurent Koscielny was floored in the box and the referee pointed to the spot.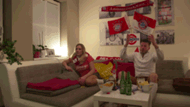 Alexis Sanchez stepped up, but his kick was saved. And as five Bayern players surrounded the Arsenal forward, it looked to Freddie and co. like the chance was gone – until Sanchez found a way through, stroking the ball into the corner for a brilliant equaliser.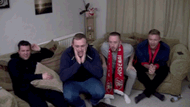 That would be as good as it got. Four second-half Bayern goals left the lads swapping to Bayern shirts – but Freddie was having none of it.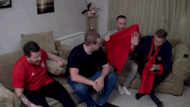 5-1 up heading to London, it looks like the tie is over at the halfway stage, leaving Bayern fans dancing their way into the quarter-finals.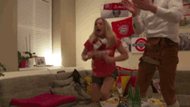 Enjoy the best moments captured by Sony Xperia, as our Champions Sofa fans watch the UEFA Champions League action from the comfort of their own homes.