World Cup
Fowler: 'Cheap magician' Maradona handed England 'worst possible' World Cup draw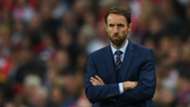 The hands of Diego Maradona have come back haunt England again in their 2018 World Cup draw, says Robbie Fowler.
The former Liverpool and Three Lions striker believes facing Tunisia, Panama and Belgium is the worst result that Gareth Southgate could have been hoping for, regardless of what others may think.
England are expected to make light work of reaching the knockout stage, but they have come unstuck in the recent past when complacency is allowed to set in and full focus shifted.
Fowler believes tougher tests would have been preferable, readying the squad for bigger challenges to come, with there now a very real threat that another humbling could be endured in front of a global audience.
He wrote in a column for the Daily Mirror, which also saw him take a sly dig at former Argentina star Maradona – the man to pull England out of the hat and place them in Group G: "I keep hearing that the World Cup draw was the 'best possible result' for England, but, in many ways, for me it's the worst.
"OK, on the surface, they have avoided some of the tougher teams. For now. But so what?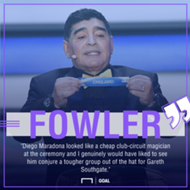 "Surely history has told us there is no such thing as an easy draw. Especially with a team that has always struggled.
"Diego Maradona looked like a cheap club-circuit magician at the ceremony and I genuinely would have liked to see him conjure a tougher group out of the hat for Gareth Southgate.
"For one, if you're going any distance in the tournament, you have to beat the best anyway. There's a danger you play weaker teams and then come up against the big guns later – let's face it Brazil or Germany are waiting in the quarters – and you're just not ready.
"I wanted them to get a tougher group, so they are up and running for the battles that you hope come later. England had a pretty straightforward group in 2010 and were blown away by Germany in the first knockout round.
"The same happened at the last Euros. They never really got into the tournament... and then Iceland. Yep. That's what can happen."
England will have just a handful of games in which to ready themselves for next summer's finals in Russia, with Southgate needing to piece together a 23-man party.
Pre-tournament friendlies will help him to make some tough decisions, but it remains to be seen whether they can shape confidence and build momentum heading into another major tournament.