U17 World Cup
Football Takes Over: Hyundai is the official partner of the FIFA U17 World Cup being held in India for the first time ever.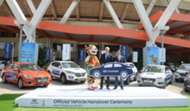 Hyundai Motor India Ltd (HMIL), India's second-largest car manufacturer and number one exporter since its inception, is the exclusive transport partner of FIFA officials during the ongoing FIFA U17 World Cup in India, the first ever tournament of this magnitude the country has ever hosted.
The company handed over a fleet of 63 premium Hyundai cars to FIFA including the Next Gen VERNA, TUCSON and ELITE i20.
Speaking at the official cars handover ceremony, Mr. Y K Koo, MD & CEO, Hyundai Motor India Ltd. asserted that Hyundai is proud to partner with the FIFA U17 World Cup being hosted for the first time in India and is committed to igniting the passion for football in India.
To drive the passion and ignite the spirit of an adrenaline-pumping game of football in the hearts of the Indian audience, Hyundai engaged their fans with fun interactive activities on Social Media and inspiring Football videos with Shah Rukh Khan which has garnered a total reach of 37 Mn with more than 18 Mn views and an engagement of nearly 4 Mn.
Before the tournament kick-started on 6th Oct., #FuelTheGame was brought about asking fans to share their inspiring slogans to boost the spirit of the FIFA U17 WC teams that have come to India to play. Hyundai received an overwhelming response from fans which created a buzz around the game.
With the tournament in full swing and the first match being India vs. USA, Hyundai invited fans to show off their football skills and discover the #FootballerInYou.
So do not miss out on the action as a few days are left until the Finale on 28th Oct. If you think you can bend it like Beckham or strike like Ronaldo? Then share your cool football trick videos using #FootballerInYou and get a chance to Win exclusive FIFA branded merchandise. And that's not all, winners to also get a Chromecast.
Check out a few football tricks shared by fans.
That's like you roll it 👌👌 #FootballerInYou pic.twitter.com/M7QENNY279

— Rajat Gupta (@PinkCityLover) October 21, 2017
#FootballerInYou pic.twitter.com/jZJT6ombpP

— Mubashshir Nezam (@BeingMubashshir) October 14, 2017
So gear up for the Finale of the FIFA U17 World Cup by sharing your football tricks. Who knows! We may just have a rising football star amidst us.
Watch this video to know more: 
var a = "https://pubads.g.doubleclick.net/gampad/adx?iu=/7176/GoalIndia/Goal_ROS/Goal_Impression_Tracker_1x1&sz=1x1&d_imp=1&d_imp_hdr=1&c=";var randomnm = Math.random();document.getElementById('trackfrm').setAttribute("src",a+randomnm.toString());