AFF Championship
Flash Back: AFF Championship 2016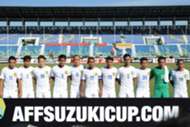 ---
BY        ZULHILMI ZAINAL       Follow on Twitter
---
The eleventh edition the AFF Championship was admittedly one of the poorest campaigns had by Malaysia, despite initially avoiding being drawn in the so-called 'group of death', Group A of the competition.
The Harimau Malaya, led by head coach Datuk Ong Kim Swee in his first ever AFF Championship, were drawn in Group B alongside Vietnam, Cambodia and hosts Myanmar.
Group A meanwhile involved Indonesia, defending champions Thailand, Singapore and hosts Philippines.
In the run-up to the tournament, Kim Swee's charges recorded four wins, five draws and three defeats in 2016, including a 2-1 pre-tournament friendly win against Papua New Guinea in Shah Alam.
But from the beginning, Kim Swee was fighting an uphill battle. Just months before the tournament, experienced Malaysia internationals Safiq Rahim, Kunanlan Subramaniam, Aidil Zafuan Abdul Razak and Amirul Hadi Yahya, all Johor Darul Ta'zim (JDT) players announced their sudden resignation from the national team, leaving him without four of the best Malaysian players at the time.
Several relatively untested names were included in the final squad, including mixed-heritage JDT forward Darren Lok and utility player Veenod Subramaniam.
Thankfully, there was still enough experience in the squad, including those who won Malaysia's only AFF title so far in 2010, such as veteran forwards Amri Yahyah, Norshahrul Idlan Talaha and Safee Sali, and custodian Khairul Fahmi Che Mat.
Despite opening the campaign with a 3-2 win over Cambodia on November 20, the victory was anything but convincing. Chan Vathanaka opened the scoring for the Angkor Warriors in only the eight minute, which was cancelled out by Syazwan Zainon's 37th minute goal. Vathanaka, who in 2018 would join Pahang in the Malaysia Super League for a brief stint, retook the lead again with his 60th minute goal, and it was Amri who spared Malaysia's blushes, thanks to his 69th and 80th minute goals. It would be the last match that Kim Swee's charges would score in the tournament.
Against Vietnam in their second match, the forwards failed to produce the goods, and Malaysia fell to a late goal that was scored by Nguyễn Trọng Hoàng in the 80th minute.
The defeat made things much harder for them, as they would face hosts Myanmar in their final group stage match. Both teams were tied on three points, but Myanmar's goal difference was superior to Malaysia's, which meant that Kim Swee's charges need to defeat the hosts in order to advance to the semi-final stage.
This time, Malaysia forwards' lack of firepower and the defence's inability to maintain their focus again combined, and the Tigers fell to another 1-0 defeat, this time through a 89th-minute David Htan winner. They were sent packing by the hosts, only the third time in their 11 appearances that they failed to advance beyond the group stage.
Vietnam finished the group stage in first place, while Myanmar were Group B runners up. In the other group, Thailand were the champions, while Indonesia snuck through in second place.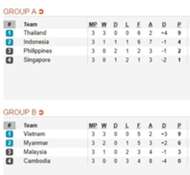 Groups A and B standings. From Soccerway.com
The poor run was by no means Kim Swee's fault, but he would be demoted to his former post as Malaysia U-23 boss the following year, where he is now thriving. Safiq and co. miraculously came out of retirement after Kim Swee's departure.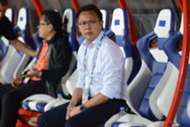 Ong Kim Swee during the tournament. Photo by asianadotcom
In the semi-finals, Thailand made quick work of Myanmar in the two-legged tie, beating them 2-0 in Yangon, and 4-0 in Bangkok; 6-0 on aggregate.
The tie between Indonesia and Vietnam was a lot less straightforward. The Garudas beat the Golden Stars 2-1 in Bogor, but in Hanoi four days later the homeside responded in a similar fashion, neccessitating extra time. However, it was Alfred Riedl's charges who were able to to produce extra in added time and bag the winner; Manahati Lestusen 97th minute penalty.
For Indonesia, who had never won an AFF Championship title, it was their fifth ever final appearance, while for the Thais, it was their chance to win their fifth AFF title, and become the most successful country in the competition.
Playing at home in the first leg on December 14 2016, the Garudas recovered well from Teerasil Dangda's 33rd minute opener to hit back with two quick goals by Rizky Pora (65') and Hansamu Yama (70').
The first leg ended 2-1 to Indonesia, but unfortunately that was as much fight as Riedl's charges could muster. Playing at the Rajamangala Stadium three days later, a brace by Siroch Chatthong (38', 47') would do enough to help the War Elephants win the match 2-0, and the tie 3-2 on aggregate.
Their fifth title sealed Thailand's reputation as the most successful side in the competition, while Indonesia, with their five final appearances without a title win, remained unable to shake off their image as the region's bridesmaid.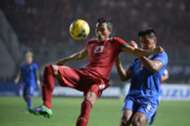 Hansamu Yama (Indonesia) and Sirach Chanttong (Thailand)
Most Valuable Player : Chanathip Songkrasin (Thailand)
Top Scorer: Teerasil Dangda (Thailand, six goals)
Read more on Malaysia  and the tournament !
Also follow Goal Malaysia 's Instagram account!