U17 World Cup
FIFA U-17 World Cup 2017: Goa CM Manohar Parrikar: We will ensure that no stone is left unturned in the preparations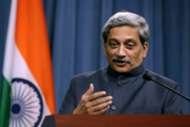 The Chief Minister of Goa, Mr. Manohar Parrikar, welcomed the FIFA delegation to Goa on Thursday and pledged full support for the upcoming FIFA U-17 World Cup India 2017.
He mentioned the state's love for the sport and ensured that everything will be done to facilitate a smooth hosting of the tournament.
"Goa is known for its love for football and we will ensure that no stone is left unturned in preparations for the tournament. It will be a wonderful opportunity for all Goans to witness a spectacle such as the World Cup," he commented.
FIFA Head of Tournaments, Jaime Yarza, also came away pleased with the meeting as well as the state of affairs with regards to preparedness.
"I am pretty excited to see the way the stadium has shaped over the last year – since I last came here, it played host to the World Cup Qualifiers and from the reports, I gauge that the authorities here did a great job at it.
"Also, the meeting with the Chief Minister was pretty fruitful – he assured us of continued support and that all requirements would be met leading up to the tournament," he said.
Federation Cup to be held in May
Also present was FIFA's Head of Local Organizing Committee, Javier Ceppi, who felt that Goa's experience with hosting the AFC U-16 Championship in 2016 would give it an edge as compared to other locations.
"Goa had the advantage of having hosted the AFC U-16 Championship 2016, which helped in having the infrastructure very advanced by September last year.
"On the infrastructure front, things are almost ready but we now need to go into the finer details of all the operation plans such as security, transport, health, promotions etc. We will keep working with the authorities of the State Government just as we have done for the past two and a half years to make sure that all the responsibilities for the state are complied with." 
The remaining venues Kochi, Navi Mumbai, Guwahati and Kolkata will be next on the list of inspection for the committee.