Nigeria v Cameroon
Fifa Normalisation Committee takes charge of Cameroonian FA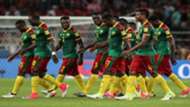 The Federation of International Football Association has appointed a Normalisation Committee to run the Cameroonian Football Association (FECAFOOT).
The decision was taken by Fifa in connection with the confirmation by the Court of Arbitration for Sport (CAS) of the decision of the "Chambre de Conciliation et d'Arbitrage du Comité Olympique et Sportif du Cameroun" (CCA/CNOSC) to annul the electoral process leading to the election of the current FECAFOOT executive committee in 2015, and following recent failed attempts by FIFA to reconcile the football stakeholders in Cameroon.
This verdict is the latest in a long line of embarrassments for the governing body of Cameroonian football as they prepare for next month's Fifa World Cup double-header qualifier against Nigeria.
"The normalisation committee will be composed of an adequate number of members to be identified by a joint FIFA and CAF mission scheduled to take place very shortly," a statement from Fifa read.
"The committee will act as an electoral committee and none of its members will be eligible for any of the open positions in the elections.
"The specified period of time during which the normalisation committee shall perform its functions shall expire no later than 28 February 2018."
This decision may haunt the Indomitable Lions bid of a good outing against the Super Eagles in Uyo and Yaoundé. They are second in Group B with two points from two games.
August 23, 2017