NPFL
FC IfeanyiUbah to trade tackles with Cynosure FC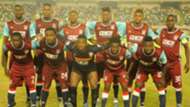 FC IfeanyiUbah will slug it out with Cynosure FC of Port Harcourt in a friendly match at the Ifeanyi Ubah Stadium on Saturday.
Cynosure, a fast rising Nigeria National League side, held Rivers United and Abia Warriors to stalemates in their recent test games.
And Anambra Warriors handler, Ladan Bosso says they aim to use the game to screen some players they aim to sign.
Editors' Picks
"We are going to face Cynosure on Saturday and we want to use the friendly game to gauge the preparedness of our would-be new signings. We want to see how they will cope during match situations. We are still trying to raise a team and at the end of our pre-season activities you are going to see a firebrand squad," Bosso told Goal.
"We have heard so much about the team and it was the reason we agreed to play against them. I will like my players to step up their game and ensure that they play beautiful football and also aspire to win too.
"The league season starts on January 14 and the idea is to raise a formidable squad that can finish better than last season. We have started a process and we shall get there gradually."
Bosso also revealed why he decided to leave northern side El Kanemi Warriors for FC IfeanyiUbah
"I won't say I am new to the terrain in the South having worked for Abia Warriors for two years and also Bayelsa United . I had good memories of my stay there and when the opportunity came for me to leave the North for South, I didn't have much to think about before agreeing to work with FC Ifeanyiubah," he said.
"It is my objective to make the club rank among the best in Nigeria. I have told the management that I won't like us to joke with our pre-season activities.
"I am happy that everything has been going according to plan," he concluded.