Africa Cup of Nations Qualification
EXTRA TIME: Watch Dr Danny Jordaan on the local vs foreign Bafana Bafana coach debate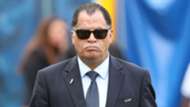 The SABC's Velile Mnyandu caught up with Safa President Dr Danny Jordaan to discuss the vacant head coach position in the South African men's team.
First, Jordaan speaks about how far they are in the process of selecting a new coach and the President underlines he is waiting for the task team "to do the work".
Jordaan also explains how the coach they want could potentially require a particular notice period from his current team.
Then Mnyandu asked Jordaan for his opinion on the local vs foreign coach debate, and the South African isn't one of those who believes you must have a local mentor.
Jordaan has noted one could have foreign assistants and a South African coach (like the Senegal team) so he is not ruling out a local coach coming in next.
The debate of local vs foreign coaches has started on the continental with some African FA's going the local route. Where does @SAFA_net stand? #sabcnews @SPORTATSABC pic.twitter.com/FrXKXGqgzi

— Velile Mnyandu 🇿🇦 (@Velile_Mnyandu) August 19, 2019