Africa Cup of Nations
EXTRA TIME: Watch Algerian celebrations and Nigerian reactions after Afcon 2019 semi-final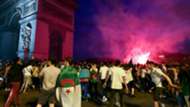 Algeria beat Nigeria 2-1 in the last four of the Africa Cup of Nations (Afcon) at Cairo International Stadium thanks to a brilliant last-minute free-kick by Riyad Mahrez.
The Manchester City attacker placed the ball through a weakly formed Nigerian wall deep into injury time, earning the winning goal of the match.
In our Twitter collection, you can find a number of video reactions from Algerian fans who are celebrating in Europe and Africa.
Editors' Picks
Some of the videos were posted by supporters and we also have one video from Goal in Paris.
The videos came in not long after the final whistle, including a dressing room celebration by the Algerian players themselves.
Before that, we take a look at fan anticipation and the reaction of the Nigerian supporters to their disappointment of missing out on the final.
Waiting for kick off... super eagles 🦅 🇳🇬 the cup 🏆 is coming home.. pic.twitter.com/4RbvMG2okl

— Onazi Ogenyi Eddy (@OnaziOgenyi) July 14, 2019
#SuperEagles beat #LesVerts (1-0) in the last two encounters involving both nations at the AFCON (2002, 2010).#Algeria twice beat #Nigeria at the 1990 tournament (5-1) in the group stage & (1-0) in the final.

Three-time champions v second fav team at #AFCON2019

📸 @CAF_Online pic.twitter.com/B7LKLmrpjv

— Oluwashina Okeleji (@oluwashina) July 14, 2019
So Algeria and Nigeria are fighting over Geria 😂😂 #ALGNGA pic.twitter.com/a9629MjXmF

— Star_Zuki (@11d6e874f86e438) July 14, 2019
Kicking off between Algeria and Egypt fans, after some Egyptians celebrated Ighalo's goal. pic.twitter.com/mtzm0edhbH

— Maher Mezahi (@MezahiMaher) July 14, 2019
Super eagles on their way back😂😁 can someone retweet pls pic.twitter.com/flRSvNW2sZ

— Your village people (@Zaddy76562801) July 14, 2019
#ALGNGR This is the imbecile they brought to replace Chukwueze... #SuperEagles na God go punish that coach. pic.twitter.com/YF4ZVJTWgf

— Drisu Monday (@drisu_monday) July 14, 2019
Tribute to super eagles "chakwakiyya" 😭😭😭 by my nupe brothers pic.twitter.com/sHJVYxj7VX

— SIR_YUYU 💯 (realist) (@SIR_YUYU) July 14, 2019
The Super Eagles played with their hearts, but conceded a cruel goal at a wrong moment of the game. We had no time to recover. But we must support the boys at all times. This is a young team that will go places. Let's get behind them for the third-place match to get the bronze!

— Festus Keyamo, SAN (@fkeyamo) July 14, 2019
The #AFCON2019 is over for us. Football is not fair at all. Anyways, well done Super Eagles, you have done very well, and you made us very proud. Thank you for representing us and thank you for taking the Green White Green flag that far. We will always support you! #ALGNGA!

— Bashir Ahmad (@BashirAhmaad) July 14, 2019
Team on a mission 🇳🇬🇳🇬🇳🇬🇳🇬💚💚💚💚🇳🇬🇳🇬🇳🇬🇳🇬 #SoarSuperEagles #Team9jaStrong #TotalAFCON2019 pic.twitter.com/k2r65YW3xP

— 🇳🇬 Super Eagles (@NGSuperEagles) July 14, 2019
Super Eagles before the game and after the game#ALGNGA pic.twitter.com/CZlMoffUZX

— Gagznation (@Gagznation) July 14, 2019
Super Eagles exit the Nations Cup #ALGNIG#BBNaija

Me: pic.twitter.com/f9YZu4ZzBB

— IFY (@BrimeEnuel) July 14, 2019
I will drop my nude if Algeria win SuperEagles tonight.#AFCON2019 #InfinixIzzaGoal

— OmoIyabeji (@Tayetahiwoh) July 14, 2019
Absolute SCENES on the Old Kent Road in London after Riyad Mahrez sends Algeria to the #AFCON2019 final. Congratulations! pic.twitter.com/BhXgQju7Nv

— Patrick Greenfield (@pgreenfielduk) July 14, 2019
Algeria in walthamstow RN 🇩🇿🇩🇿🇩🇿 pic.twitter.com/GozwsBSDfh

— Dave Lakha (@DaveLakha) July 14, 2019
Congratulations to Algeria and Mahrez. At least your wife is Nigerian. #نيجيريا_الجزائر #ALGNGA pic.twitter.com/7o54aW6W62

— ᴏᴍᴀsᴏʀᴏ ᴀʟɪ ᴏᴠɪᴇ™☤2 (@OmasoroO) July 14, 2019
Algeria fans in Paris really enjoyed that Mahrez winner! 🎉#AFCON2019pic.twitter.com/hLJUsVZB3T

— Goal (@goal) July 14, 2019
The better team won. Congratulations to Algeria 🇩🇿 #AFCON2019

— JJ. Omojuwa (@Omojuwa) July 14, 2019
I think i want danger money for this one Finsbury Park tonight
Algeria beat Nigeria 2-1 through to Africa Cup Final#AfricaCup#FinsburyPark #Algeria #AlgeriavNigeria pic.twitter.com/5VUUVpgnqZ

— Parikiaki Newspaper (@Parikiaki) July 14, 2019
ALGERIE FOR THE LAST MINUTE WINNNNNNNN 🇩🇿🇩🇿🇩🇿💚❤️💚❤️ #AlgeriaVsNigeria #Algeria pic.twitter.com/OXv7W50tCp

— ℃am (@cameliyuh) July 14, 2019
The Algeria dressing room after the 2-1 win vs Nigeria. pic.twitter.com/vlJ99caZh3

— DZ Football (@DZFootball_en) July 14, 2019