South Africa
EXTRA TIME: South African fans joke about Bafana's latest ranking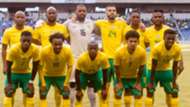 The South African national team has climbed four places in the Fifa World Rankings. 
That might sound like a positive spin, but Bafana Bafana's still at a very low position at no.72 in the world.
Here's how the fans have reacted to the news with their typical South African humour on Twitter.
Why is Bafana Bafana trending, did they lose again? pic.twitter.com/oAlpUtZ9Ti

— IG: Shocks95 (@LMagagane) April 12, 2018
Bafana Bafana have climbed four places to 72nd in the latest #FIFA world rankings. They remain 15th in Africa.

— EWN Sport (@EWNsport) April 12, 2018
So a lack of game time for bafana bafana makes move up the rankings?? I think they should start playing in 2020

— Nuaizer (@monwa_nko) April 12, 2018
Bafana Bafana play better when all our players are with their respective clubs, you can tell by the FIFA Rankings where they keep climbing up when they're not in camp and slide down when they are in camp...

— Kokwele M. Phillix (@Matome_Kay) April 12, 2018
Its not breaking news It's regular news because she always wins, breaking news would be Bafana Bafana qualifying for the World Cup .@tumisole am I lying? https://t.co/h4BRnKMwRG

— Julius I'mNot_Malema (@Julius_SMalema_) April 13, 2018
So Bafana Bafana are trending for being no.72 . Balance me here people, why Bafana is trending... pic.twitter.com/0J2r647IyI

— Lwandisa Gogo (@Jakeswise) April 12, 2018