WTF
EXTRA TIME: Mokwena arrives at Amiens SC and meets coach Pelissie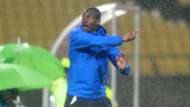 South Africa's famous assistant coach Rhulani Mokwena works for Orlando Pirates and has proven his enthusiasm to grow his knowledge at many clubs.
In recent times he posted Tweets of himself at Liverpool, and this time he's at France's Ligue 1 club, Amiens SC.
This is also the club of Bafana Bafana midfield star, Bongani Zungu. So, a few doubters have pointed out that Mokwena is just visiting Zungu.
Editors' Picks
The former Mamelodi Sundowns player has an excellent relationship with Mokwena. Nevertheless, the Pirates assistant proves that he visited Amiens to learn from their coaching setup. Below, he posted a photograph of himself talking to head coach Christophe Pelissie.
Mokwena also posted a video of himself arriving at the club. One can view the Tweets and the reaction from South African soccer fans.
LEARNING IS NOT ATTAINED BY CHANCE, IT MUST BE SOUGHT FOR WITH ARDOR AND ATTENDED TO WITH DILIGENCE... GREAT MEETING THE HEAD COACH OF AMIENS FC CHRISTOPHE PELISSIE. pic.twitter.com/R1F3nrAb1j

— Rulani Mokwena (@coach_rulani) May 22, 2019
This off season we learn from Amiens FC. Different coach. Different philosophy. Different football culture. ✍🏾🧐 pic.twitter.com/yqQWlBP4kY

— Rulani Mokwena (@coach_rulani) May 22, 2019
He has started from the bottom too. Climbed the ladders

— Sébastien (@SebC__) May 22, 2019
True. Told me about his history. He's done well in the last 10 years that he's been coaching.

— Rulani Mokwena (@coach_rulani) May 22, 2019
Keep on investing in and growing yourself bro, not only @orlandopirates will benefit but the Nation too, players such as @percymuzitau22 commend you for the role you've played and still playing in their lives. Stay grounded, humble and continue learning. I'm inspired🙏

— uBafo_wamahustler (@n_sitholen) May 22, 2019
You'll still finish 2nd,for as long as you're with that team ghost team 😂😂😂

— David The King (@mlambya_kunyela) May 23, 2019
Bring back that knowledge rulani

— 21 December Teddy (@TeddyHotz) May 22, 2019
Thanks in SA to have couch like u Mr Mokwena n Orlando Pirates is bless, as fans thank u

— Lizwi (@Lizwi06800898) May 23, 2019
The more you learn the more you realise the need to learn - keep at it brother coach, you are already an inspiration so stopping would be irresponsible of you!

— Masemola (@Masemol58556914) May 22, 2019
You just visited Bongani Zungu, there's nothing you learning there. Your attachment to Zungu is getting suspicious bro🤔

— Makebeta (@tellambrose) May 23, 2019