African All Stars
EXTRA TIME: Monaco's Keita Balde enjoys break in Disneyland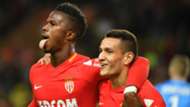 Monaco attacker Keita Balde is having a great time out in Disneyland, Paris.
The 25-year-old, of course, has plenty to celebrate after helping the Red and Whites finished the first half of the French Ligue 1 in the second spot with five goals in 13 appearances to his name.
To start the festivities, the former Lazio talisman took a deserve break to the most visited theme park in all of Europe.
A post shared by Keita Balde (@keitabalde14) on Dec 22, 2017 at 4:05am PST