African All Stars
Is this the oldest football fan ever?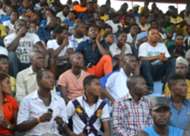 In a world where billions of fans support different teams – many of them old – former Shooting Stars chairman Layi Lankondoro has outdone them all with his age.
The 103-year-old still finds time to watch the Nigeria Professional Football League team play live.
3SC shared his picture on Twitter watching team's training at the Lekan Salami Stadium ahead of the Oyo state FA Cup final.
See why we are the oldest club as our 103 year old supporter & ex-chairman, #Pa Layi Lankondoro watch our training! pic.twitter.com/iYpN3l0afe

— Shooting Stars SC (@Official3SC) May 3, 2017