UEFA Champions League
EXTRA TIME: How South Africa reacted to Uefa Champions League start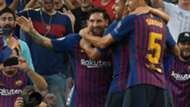 South African soccer legend Mark Maponyane dominates the Twitter media space during the Uefa Champions League night. 
He is mostly joined by famous football presenter Robert Marawa. However local presenter Carol Tshabalala has the best spot in the house at Anfield. You can see her Tweet at the stadium with the fans, and she's also got a photo of herself with Sadio Mane and Jurgen Klopp.
You can read all the reaction from South Africa's media on a night Barcelona and Inter Milan impressed with wins against PSV and Tottenham respectively. Then most of the attention was on Liverpool beating PSG 3-2.
Editors' Picks
Don't come to Camp Nou and think you'll leave unscathed, it ended Barcelona 4 PSV 0

— Marks Maponyane (@MarksMaponyane) September 18, 2018
Good first 75mins for PSV(not a bad side)but Barca showed their superiority once more

— Mark Mayambela (@ProfMayambela12) September 18, 2018
So this match is basically @KingJames vs @Jumpman23, remembering that LeBron has a 2% stake in Liverpool since April 2011 and Michael Jordan's brand makes its debut on the jersey of PSG!!

#LiverpoolPSG #UCL

— robertmarawa (@robertmarawa) September 18, 2018
September 18, 2018
Tottenham's dry run continues

— Marks Maponyane (@MarksMaponyane) September 18, 2018
Neymar, Cavani & Mbappe vs Salah, Mane & Sturridge - can't wait.

— Marks Maponyane (@MarksMaponyane) September 18, 2018
GOOOOOOOOOAAAAAAALLLLL!!!!

 Mbappé 83'

Liverpool 2-2 PSG#UCL

— robertmarawa (@robertmarawa) September 18, 2018
Sturridge makes it 1 nil to Liverpool

— Marks Maponyane (@MarksMaponyane) September 18, 2018
Atletico Madrid are leading Monaco 2-1 at the break, Simione coaches from the suites for ever nah?

— Marks Maponyane (@MarksMaponyane) September 18, 2018
The level of consistent high level competition is very important in UCL #LiverpoolPSG #MonacoAthletico

— Mark Mayambela (@ProfMayambela12) September 18, 2018
2-0 #Liverpool

— Kalusha Bwalya (@KalushaPBwalya) September 18, 2018
#PSG pull one back

— Kalusha Bwalya (@KalushaPBwalya) September 18, 2018
Liverpool 2 PSG 2, who'll steal it right at the death?

— Marks Maponyane (@MarksMaponyane) September 18, 2018
Firmino answered my question, Liverpool 3 PSG 2 right at the death as it ends at Anfield.

— Marks Maponyane (@MarksMaponyane) September 18, 2018
What a night at Anfield pic.twitter.com/VNZTEY2Yo8

— Carol Tshabalala (@SimplyCarol8) September 18, 2018
Jürgen Klopp: "Our midfield three were outstanding. Daniel had a super game and scored a super goal. Bobby - there was no chance for him yesterday or the day before but he came in this morning and said 'I'm fine. I can open my eye.'"

— Melissa Reddy (@MelissaReddy_) September 18, 2018
Mo Salah did exactly what Jurgen Klopp was afraid Naby Keita was going to do, lose the ball in a dangerous area for PSG's dangerous attackers to pounce on. Any player can make a mistake. Paris were open & I feel with Keita Liverpool would've used the ball better going forward LFC

— Ignat Football (@IgnatFootball) September 18, 2018
Mo Salah needs a rest. I'd bring him back for Liverpool's Premier League game against Chelsea & then Napoli away, so use Shaqiri for two in a row against Southampton and then the League Cup vs. Chelsea. #LIVPSG

— Ignat Football (@IgnatFootball) September 18, 2018
GOOOOOOOOOOOAAAAAALLLLL!!!!

 Firmino 92'

Liverpool 3-2 PSG#UCL

— robertmarawa (@robertmarawa) September 18, 2018