NPFL
Enyimba's Chukwude, Alalade return against Plateau United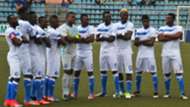 Enyimba duo of Stephen Chukwude and Wasiu Alalade have been confirmed fit and ready to return against Plateau United in a league tie slated for Wednesday in Calabar after some time on the sidelines.
Chukwude copped a shoulder injury against Nasarawa United on January 24 and has missed the last four matches, but he confirmed that he has returned to training sessions and has been declared fit and available for selections.
"I thought the shoulder injury was just a slight injury and that after few days I would recover but here I am unable to play in the past 20 days or thereabouts. I have recovered now and I am hoping for the best if I am fielded against Plateau United," Chukwude told Goal.
"This is a match that a lot depends on and we must not fail ourselves and our fans some of who have taken the pain to travel from Aba to come and cheer us to victory."
Alalade on his part said that he has overcome his leg injury worries and that he is ready for the game with the reigning league champions.
"I thank God that I have been able to recover from the leg injury. I am raring to go for my club against Plateau United. It is a tough encounter and we are going to do our utmost to ensure we secure the maximum points," Alalade said.
"It feels great to return to action and I will be delighted to be picked for the game.
"I am integrating very well and I thank God for it. I will continue to do my best to ensure that Enyimba end the season impressively."