NPFL
Eleje frustrated by lack of playing time at Katsina United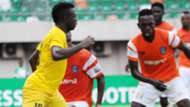 Katsina United's Obinna Eleje has expressed that he will like to contribute his quota to the Chanji Boys more in the pitch than he is presently doing as a fringe player.
The player was an important member of the team under former coach, Baldwin Bazuaye last season but he has only featured twice for Abdullahi Biffo's men this season and the striker said that his lack of game time is giving him serious concern as the campaign gradually approaches midseason.
"It is the desire of every player to play games because, without that, so many things can happen besides becoming match rusty. I have not played too many games this season and I am not happy about it," Eleje told Goal.
"I played the first two matches of the season and I thought everything would be fine thereafter but I am yet to play again after then. We have a good coach whose philosophy is really helping the team and I will also like to help too from the pitch.
"I am not complaining as such because I know that my time will come. We have about five strikers and they are all doing well presently. I must respect the coaches' decision but if I am giving the opportunity to show what I can do also, I will take it."
Eleje has also recommended that he could be tried in the midfield as he played as an attacking midfielder under coach Bazuaye and was very effective at it for the most part of last season.
"I know the coach knows that I am a versatile player and can also figure in the midfield without any problem. I think he was told about every player by the assistant coaches that worked with the former coach.
"I just want to play because it is the desire of every player to play in all matches."