Johor Darul Ta'zim
Elavarasan pleased with performance but promised changes are imminent at PKNS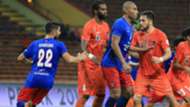 For the second time this season, PKNS FC gave Johor Darul Ta'zim (JDT) a fright when they almost held the league leaders to a draw in a Super League match played at Shah Alam Stadium on Wednesday night.
The plucky Red Ants produced a resolute performance in defence as they shut out the league's top scorer for almost 80 minutes but eventually one lapse in concentration allowed the visitors to go home with all three points in the bag.
For coach E. Elavarasan, his tactic of playing three centre backs worked and he was was also disappointed that his charges failed to make good of the chances that they managed to create in the game.
"I think overall our players played well even though we played with one import less. Our defending was organised and out target was to make sure we don't concede in the opening 45 minutes. But in the last 15 minutes of the game, the game changed."
"In the second half, both sides had chances. Of course JDT looked like they had more chances but we are almost the same, just that we didn't use the chances we got," said Elavarasan in the post match press conference.
PKNS had to do without Safee Sali as the terms of his signing dictates that he would not be used in matches against JDT. His absence was sorely missed by Elavarasan who admitted that because of that, they had go route one kind of football.
"Of course if we had Safee, we would have more in attack. He's a striker who can find openings on his own. Today we have two big strikers who wasn't very mobile so we had to depend on the crossing but we didn't do too well there," added Elavarasan.
In a game of fine margins, the result left the home players bitterly disappointed, having held out for so long in the match. Elavarasan noted that the mistake happened much earlier in the move that left his defence exposed.
"I think at that moment, at the half way line there was a mistake. The mistake was when we played a square pass when it was supposed to be a forward pass. When the right back overlapped, the right side was opened up. Either we counter or when we lose the ball they counter. Games like these are always tight. Even though we lost, the players commitment was very good," explained Elavarasan.
With only goal difference separating PKNS from the drop zone, Elavarasan knows that he will have to work to change things around sooner, rather than later. For that, the head coach promised changes are in the offing and PKNS will soon rise to safety.
"We're the only team who haven't made any changes this window. For the next game, after we make the changes with the import players, I'm sure we will be better. At the moment we have identified a few but we'll wait for the management decision," told Elavarasan.
PKNS will now have until 1 July to work on their squad, before they host Melaka United in the next Super League match.