African All Stars
Egypt's Mohamed Elneny considers Arsenal as home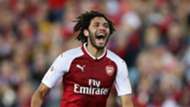 Mohamed Elneny considers Arsenal as his home and remains keen on giving his best to help the club.
The 25-year-old midfielder revealed that he is ready to stay at the north London club and fight for his place in the Arsene Wenger's squad after rejecting a move to Leicester City this summer.
Elneny who was replaced by Aaron Ramsey in the Gunners 4-3 victory over Leicester City disclosed that the season opener win was much needed for the club to build on.
"I consider Arsenal as my home. I give all that I have to play in the starting XI with the team and I'll always keep improving to keep my spot," Elneny told the club's website.
"I am happy with the boss's confidence in my quality and I hope to deliver my best in all the games.
"Winning was crucial after losing the opening fixture in many encounters during the past seasons.
"After you win the first game in such style, this gives you such a push to continue the season in a very high spirit after turning the tables."