Chelsea
'Don't kick Hazard!' - Conte's World Cup warning to Chelsea duo Drinkwater & Cahill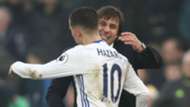 Chelsea boss Antonio Conte has said that he will warn Danny Drinkwater and Gary Cahill against kicking Eden Hazard when England face Belgium at the 2018 World Cup.
Following the draw for the group stage at next summer's global gathering in Russia, domestic team-mates at Stamford Bridge have learned that they are to go head-to-head.
Hazard will form part of a star-studded Belgium squad expected to go deep into the competition, while Cahill and Drinkwater will be hoping to figure in Gareth Southgate's England plans.
They could all line up in Kaliningrad on June 28, and will do so with the words of their club boss ringing in their ears.
Pressed on whether he will offer any advice to his players ahead of the World Cup, Conte said: "There is Cahill and Danny.
"I have to speak with Cahill and Danny and tell them to avoid to give the kicks to Eden."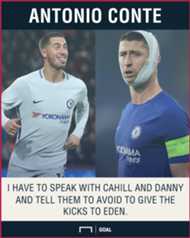 Hazard has recently admitted that he seeks to rest his body by taking training breaks after often being singled out for rough treatment by opponents.
It may well be that he is targeted when England take on Belgium, with Cahill and Drinkwater able to offer inside information on how to contain him after working with him at club level.
"For sure every day to have the training session with this player will make you stronger," added Conte.
"Gary knows very well Hazard's skill, for this reason he must pay great attention."
Whatever happens on the day, and regardless of how his players get on, Conte is looking forward to witnessing the spectacle – with his native Italy having missed out on qualification following a play-off defeat to Sweden.
He added: "I saw the draw and England and Belgium are in the same group at the World Cup. There are two teams to qualify for the next round.
"England and Belgium are favourite to do this in the World Cup. It will be special to see this game, England against Belgium, if I have the possibility I would like to watch this game."