NPFL
Diamond Scouting Tournament ends in style
The first phase of the second edition was held in September in the Federal Capital Territory, Abuja before climaxing with the second phase of the second edition in the Centre of Excellence.
Box2Box FC, Nath FC, Bethel and 36 Lions all took part in the scouting exercise as scouts and agents selected the best legs to form an All Stars side that took on Collins Edwin on the final day of the championship.
The contingent consisting of six scouts and four agents who witnessed the scouting tournament were impressed with the wealth of talents on display.
For the first time, prizes were given to the best goalkeeper, topscorer, best defender and most valuable player.
"There were lots of impressive performances from the defenders who took part in the second phase of the second edition of the Diamond Scouting Tournament, so we felt we needed to for the first time introduce this award to reward one of the defenders because of the outstanding displays we saw from that department," said Chukwuma Emmanuel Nwankwo.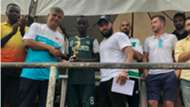 According to Cem Sagar, Diamond Sports Management have commenced an immediate action plan that will see the spotted talents move to Europe.
"We have commenced plans that will see the outstanding talents discovered from the Diamond Scouting Tournament move to Europe," he said.
"A number of the spotted players got signed up and have penned the representation contract of our agency which will enable us and ease the process of securing professional trials for some while one or two players could secure a direct professional contract. This will be much clearer in the coming days.
"There are a few that still have to go through a developmental phase before they will be ready to move to Europe."