KPL
Delayed Top 8 Tournament cause major changes in KPL fixtures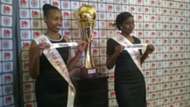 The Kenyan Premier League has made several changes in the fixtures following the postponement of the Top 8 Tournament that is set to kick off in April.  
The knockout tournament failed to kick off in 2017 following the withdrawal of pay TV Channel SuperSport as official sponsors, but a new sponsor is understood to be on the way.
On Monday, KPL called off the draws that were set for today (Tuesday) following the delay in inking the sponsorship deal.
"Upon the request of a potential KPL Top 8 sponsor, the start of the KPL Top 8 Knockout Tournament has been moved to April," KPL said in a statement.
The delay affected the league, forcing KPL to move forward the round 5 midweek matches from March 6/7  March 3/4.
Round 12 matches have been spread across the weekend of 21/22 April while Round 13 matches have moved back from between April 28/29 to May 2/3.
Top 8 Tournament quarterfinal matches will be played on the weekend on 28/29 April with the semifinals and finals will be played in June.