Premier League
David Luiz settles English business but Brazil return requires a change of tack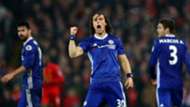 The sight of David Luiz tearing around the field, valiantly, and feebly, chasing German heels was held up an illustration that they were right.
He was the fall guy, the face of Brazil's World Cup 2014 horror show. He faced up to it all, too. In a courageous, though perhaps ill-advised, move, he went in front of the cameras to offer 200 million people an explanation for the inexplicable. 
His tears that evening after the Mineirazo became the symbol of an unthinkable collapse and an unrivalled humiliation. David Luiz was the 7-1.
---

READ MORE:


Brazil qualify for WC2018  | Dante: Gone but not forgotten | Filipe Luis attacks Brazil role
---