Al Shabab
Daniel Carreno leaves Al Shabab by mutual consent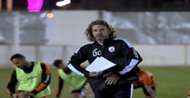 Al Shabab announced the departure of Daniel Carreno from the club by mutual consent.
The club announced the news via its Twitter account, officially stating the end of the relationship between Carreno and Al Shabab.
Khalid Al-Qurooni, a local Saudi coach, will replace Carreno until the end of the season.
Editors' Picks
It is worth noting that Carreno came in last October to replace Sami Al Jaber, but failed to improve on his 5th place spot, instead falling back to 10th place with 29 points.