Opinion
Could formation shift save the Super Eagles?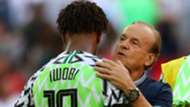 ---
COMMENT    By Solace Chukwu    

Follow on Twitter
---
If there is any consolation to be had from these most recent friendlies, it is that Nigeria typically underwhelm in pre-World Cup warm-ups.
The readiest example is 1998, of course, but the Super Eagles did manage a fortunate draw against Greece and a hapless loss against the United States only four years ago. In 2010, the sole victory en route to South Africa was a narrow defeat of North Korea.
Yet, this is a nation whose superstition is only bested by its deep pessimism. With the national side, while a great deal of feeling is involved, there is a nod to that famous sentiment from 'Heat': never get involved in something you cannot walk away from in 30 seconds. With the World Cup around the corner, there seems already to be a mental disengagement.
Perhaps that might do the Super Eagles good, to not be burdened by the heft of expectation. There is often a weird balancing act required for footballing competition: enough confidence to not be intimidated, but not so much that you become your own biggest foe. If that exhilarating win over Argentina last year helped with the former, three defeats on the spin have certainly reinforced the latter.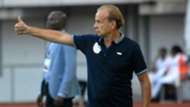 Gernot Rohr has declared himself unperturbed, and rightly so.
Friendlies are more about rhythm and squad cohesion than anything properly tactical - Jorge Sampaoli famously decried them, averring he'd rather spend time on the training ground with his Argentina side; Germany and Spain have posted poor results recently, and those are the big favourites, along with Brazil.
And yet, for all that, there lingers a worry: Nigeria has never gone into a World Cup with so little clarity regarding its system.
That is not necessarily a bad thing in itself. Qualifying is a whole different bucket of fish, and a style conducive to exerting superiority over regional foes might very well fall flat on the global stage. There is a far smaller margin for error.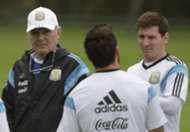 Alejandro Sabella quickly realized this ahead of the last World Cup.
Argentina's gung-ho attacking style may have seen them blitz South American qualifying but, by his own admission, it left him praying in anguish whenever they had to defend. Come the Mundial proper, gone was the diamond with two strikers; in its place was a solid two banks of four and Lionel Messi behind a lone striker. It captured few imaginations, but Argentina made the final.
Think a lot will depend on how assertive Ogu can be today. Can run the game if he demands the ball early and takes responsibility. Also, both he and Ndidi offer the option to switch to a back three quickly, without waiting till half-time (incidentally, the Czechs are in a 3-5-2).

— Solace Chukwu (@TheOddSolace) June 6, 2018
So perhaps it isn't the worst thing in the world that Rohr seems to be dallying more and more with a 3-5-2. Having swaggered through a tough qualifying group playing 4-2-3-1, there seems an understanding that greater solidity is required on the world stage.
It also alleviates the concern over the Super Eagles striking position by sheer weight of numbers - two is greater than one, if math is to be believed - while accommodating both the calculating John Obi Mikel and the twinkle-toed Alex Iwobi in central areas.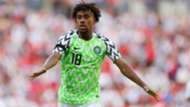 There are only two real losers, as it were, within this shape: Kelechi Iheanacho and Victor Moses, for different reasons.
For the former, there lingers a suspicion that he does not work well with Odion Ighalo.
Is this how the @NGSuperEagles could line up in a 3-5-2 formation vs. Croatia?pic.twitter.com/WeNaEm1xF5

— Ed Dove (@EddyDove) June 7, 2018
The Changchun Yatai man seems set to lead the line, but offers the same sort of movements as Iheanacho, meaning they often to get in each other's way.
Neither is strong enough in terms of linking up; this was evident against Poland, and surely was enough to convince Rohr. The situation could, of course, change if Rohr tires of Ighalo's lack of goals.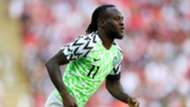 Moses though finds himself the odd man out yet again. Four years ago, a rapid loss of form, aggravated by inactivity at club level, saw him relegated to the bench at the tournament proper.
This time, the concern is purely tactical—aside the wing-back role, which he has played with aplomb at Chelsea for two season, there is no real space for him in a system without de facto wingers.
The 26-year-old does not play well enough in tight spaces or have the vision required to play as a number 10, and drifts too far wide in search of space when played upfront (witness against Czech Republic), negating the entire of point of having two upfront.
Rohr, however, seems determined to crowbar him into the side anyway. If indeed the German has settled on that system, he will have a tough decision to make.